Last Updated on April 13, 2022
Do you use video presentation software in your business? Chance are, you do. Video presentations are a key element to your corporate meetings, staff collaborations, and B2B meetings. Above all, you need your video message to be interesting and engaging and to not put people to sleep. You need them to be talking about your video during the breaks and how it inspired them. You want them to ask questions about your video that you can answer after the session. This promotes awareness of your brand and promotes more sales and confidence in your brand.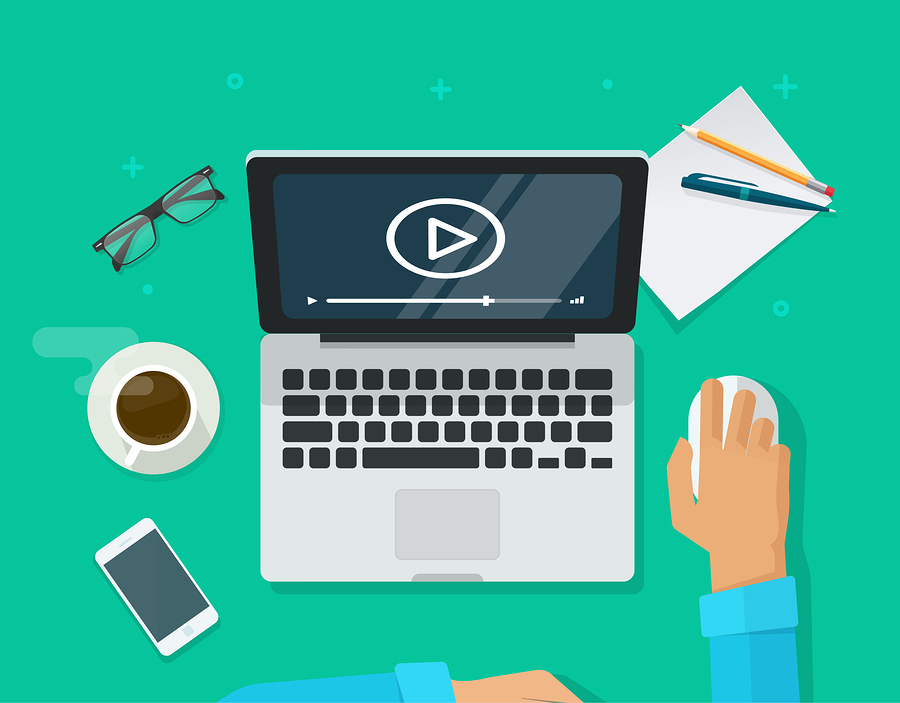 You use video presentations in a variety of ways, including sales presentations to potential clients, employees, and B2B partners, as well as vendors, and even board members.
For this reason, it is even more important that you have excellent video presentation software.
In this post, we will take a look at some of the best video presentations software that is available out there:
Slideshare
Slideshare.net is one online tool that you can use for your video presentations. Keep in mind that this is a "PowerPoint" type program that focuses on images and graphics, not video. But the final product is considered a video slideshow.
The advantage to Slideshare is that it is a preformatted program that allows you to upload your pictures to the program and create an organized compilation of images that work together on a central theme.
PowToon: Online Business Animation Software
If you wanted animated video, you could try out this software from PowToon. They have made a name for themselves for allowing users to create an animated video using nothing more than their online platform. It comes with several onboard images and animation effects that can add to your message in a big way.
Go to their site at Powtoon.com and see if they have anything you'd like to use. The advantage of this platform is that you don't have to know how to do animations to create them.
PowerPoint: The Standard of Video Presentations
PowerPoint is a traditional standard that has been updated with the release of the new Microsoft Office Suite. MS Office is now purchased through a monthly premium rather than a one-off payment. When you purchase this, you will automatically get the add-ons and new features that are available in this new program.
It comes with new features such as screen capture, video screen capture, and some beautiful new templates that allow you to expand upon your presentations and make them attractive and professional-looking.
People usually use PowerPoint primarily for images and text but you can still include videos within your presentation as well.
SlideDog
SlideDog is a brand new type of video presentation software that allows you to enjoy full control of your video and slide presentations. Similar to PowerPoint, it allows you to line up your slides in any way you like, change the order of them "on the fly," and adjust it to your audience and presentation as you go.
Focusky.com
Focusky.com is a new type of video and slide presentation module that allows you to utilize an HTML5 technology to create stunning slide presentations and video shows for any audience.
It adds a cool "pan" and "zoom" effect to your slideshows and offers easy design templates to get started. There is also an option between HTML 5 and Flash versions so that you can cater it to any platform and make it user-friendly to everyone.
How to Effectively Utilize Video Presentation Software
These are a few of the both traditional and more current types of video presentation software available today. You can play around with one or all of these to see if they have what you need.
The best way to utilize this software is to think about the purpose of your presentation first and cater it to your needs. For example, do you plan to use it for a business presentation or sales meeting? What elements of these programs do you find most valuable? How do you plan to implement the technology to suit your needs?
Sometimes it is best to remind ourselves that there is really no one software that is a "magic bullet." No matter how good a software program is, there are always other things that you would like to see included in the program. But it seems the only wayt o change this is to rewrite the program yourself.
Unless you are an expert software engineer, this can be a difficult process.
So what is the alternative?
Hire a Professional Team
Chances are you are busy as a business owner. You may want to create your slideshows. You may know exactly what you want in them. You may even have the technical skills to do it yourself. But do you have the time?
Hiring a professional video production team may be the best solution for you.
At animatedvideo.com, we create the stunning professional animated video, explainer video, and whiteboard video for your every presentation need. Whether you want your presentation to be for a business meeting with your board of directors, your B2B partners, or your employees to collaborate on a project, we can deliver what you need.
All you have to do is to get your ideas together, think about your purpose, and get with us. We can do the rest. With many years of experience behind us, we know how to create original, professional presentations that will stun your audience with amazement.
Some of the services we offer include:
Corporate Video
Marketing Video
Explainer Video
Tutorial Video
Each type of video requires a unique perspective on how you want to communicate with your target audience. The corporate video, for example, speaks to your investors, partners, and potential audience in a way that presents your business in a professional light and focuses in on your key attributes.
A marketing video presents the key traits that you want to get before your audience in a way that will make them want to purchase.
Explainer videos and tutorials take a more educational approach that speaks to people who want to learn more about a process or how to do something.
They are all unique and different, and they all require a certain type of insight and expertise. Try us out for a free quote, and we will show you how our professionals can produce your animated video for you with ease.
Contact us at AnimatedVideo.com. Then you can get back to doing what you do best-running your business.