Last Updated on April 13, 2022
Do you have a static graphic or caricature logo that you want to bring to life with animated video? Have you had good results from your caricature graphic on your website or other locations? Caricatures are popular for logos as well as other purposes. They give you a presence online without actually using your talking head video.
The challenge is to make the caricature come alive, so that is will engage people within a finished video. This will allow you to make your image come alive and talk to people directly.
In this post, we will look at the process involved in animating a character and how we can help with this at AnimatedVideo.com.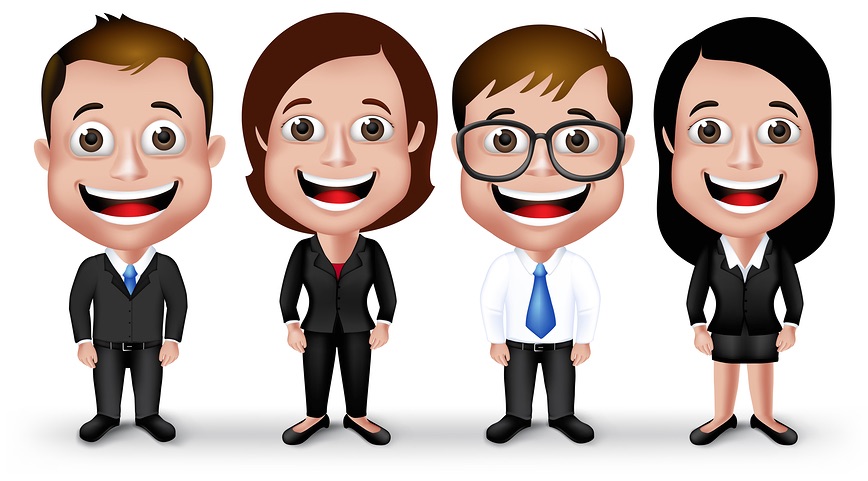 Animating a Caricature
Have you ever messed with animation software or attempted to create an animation from a graphic image? Let's face it: it's a specialized skill that takes a unique talent. Perhaps you do have that talent. Perhaps someone in your company is good at doing animations. If so, good for you! But most business owners just don't have the time to do this on their own.
Many business owners have a logo or graphic design they would like to use as an animation. The challenge is taking that caricature or image and making it fit into your animated video in a way that doesn't look cheesy or unprofessional.
External Software Solutions
It is possible to simplify this process by creating moving portions of your graphic image or photograph. Using Photoshop or other high-tech digital photo editing software, you can create a moving character from a static one. Look at this video to see the process that you can use to change a static image to an animated one within Photoshop.
As you can see this is a tedious process. If you have the time to do this, great! But many business owners do not have the time to dedicate to a frame-by-frame animation process.
How Animated Video Can Help
We understand the animation process, and we focus on creating animations from static images. No matter what your image is, we can apply our skill and expertise to your caricature to create an animation.
Take a look at how we were able to bring these cartoon caricatures to life through animated video.
What can you do with your animation?
There are some ways that you can use your animation once you create it. There is no limit as to how you can use your finished animation, but we have listed some of the applications that you can try for a reference.
1. Create a talking animation explainer video.– An explainer video explains a process that customers want to know about. Communicating information to your current and potential clients can greatly cut down on the number of customer service problems you have as a business. Also, it gives you an opportunity to speak to your customers directly without actually doing so in person.
This is an excellent solution for getting yourself in front of the customer in a virtual manner without actually having to be there. This allows you to pull in customers from the whole country or region rather than just in your community or geographic location.
2. Put the animation in your regular video email messages.– Video is one of the best ways to increase your open rate and conversions from your email newsletters. SwitchVideo.com pointed out that having a video within your emails resulted in a 53% higher open rate.
3. Include your animated video on your social media pages.– Social media is still one of the best ways to get leads and clients. The latest statistics on Facebook and Twitter indicate that their audience is only going to grow in the future. Mobile users are increasing too, and it is estimated that there will be over 2 billion mobile users on Facebook by 2017.
Also, Statistica reported that there would be 4.77 billion users by 2017.
Including your animations within your social media and making it "mobile-friendly" will improve your engagement and interactions with your animated video and result in more leads and conversions.
4. Use your animated video on your main page.– The animated video is a powerful medium, but it will only work in the way you want if you make it a prominent piece of what you do in your ad strategy. Placing your video in the center of your page is considered the best suggestion. This way, people will be drawn to it immediately when they enter your page.
5. Make it shareable.– One of the best things you can do to with your animated video is to share it. Make it easy for others to share as well by placing social media icons on your site to encourage more shares. By sharing your finished video with others, you will increase the number of potential leads and conversions.
Saving Time in Creating Animations
If you go into Pixar Studios or any of the popular animation studios today, you will see that creating video is a very specific, technical, and artistic process that takes hundreds of hours to create.
Even the most skilled animation specialists say that they spend hours and hours creating each motion from the graphic or cartoon image, then polishing and perfecting it to make it look authentic.
That's why it's best to get a professional animated video company to help with this. At Animatedvideo.com, we enjoy what we do, and it shows. We talk to our customer individually, brainstorm the process and the purpose of their animated video, and work together as a team to create the final product.
We take pride in creating exactly what our client wants and work with you every step of the way to achieve this.
Whatever you envision for your animated video, we can do it. We can also include audio and vocal tracks, special effects and titles, and whatever else you want to see included within your video.
The process of creating professional video is not easy. It takes tools, resources, and skill. We have all of that, and we can save you time and money by creating your animations from your caricatures.
So if you have a caricature you created that you want to be created into a stunning animated video, contact us. Take a look at our online portfolio to get an idea of what we can do and then contact us for a free quote.
We love new customers, and we go out of our way to produce what you want.
When you hire AnimatedVideo.com to create your animated character, you don't have to worry about learning the process.
We've already learned it and we are happy to share this process with you by producing it for you.