Last Updated on April 13, 2022
If you have been looking for a great video creation software but can't seem to decide which one is best, this is a great post for you.
We looked into three of the best professional video editing software programs available today for video editing online and compared them side-by-side so that you will be able to make a more educated decision before you purchase.
At the same time, we are also pointing out some of the learning curve issues that come with each of these softwares, and why it's always a great option to consider going with a professional design team instead.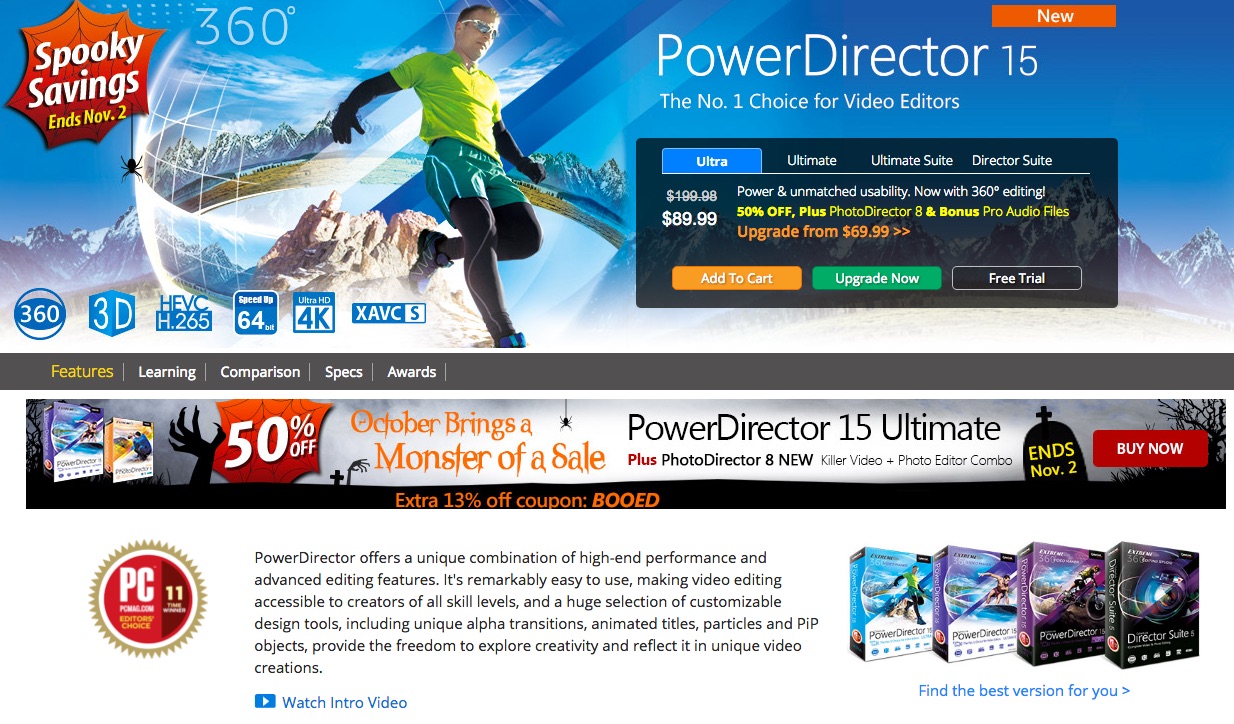 Cyberlink Powerdirector Review
Cyberlink PowerDirector is a robust video editing program that packs a big punch without having to spend hours and hours learning the software. It is designed to make the process of video editing fairly easy for the beginning, intermediate, or expert user.
I have used the program myself and some of the best features of this program include:
360 degree video tour capability– With the built-in 360 degree video tour capability, this makes this program compatible with the hotel or real estate industry as well as numerous other niche areas.
Render to a variety of formats– This program allows you to save your video to a variety of formats and file types, making it very versatile and customizable as well.
Unique design tools and special effects– Cyberlink PowerDirector has a number of unique design tools and special effects that allow you to add on to your videos with style.
Ability to correct video– One of my favorite features of this program is the ability to correct original video. If you find out your camera wasn't steady or even when you were recording, you can adjust this within the editing program and straighten it out. There are a number of other cool extra features too that will further enhance your production and improve the quality.
Expert color enhancement– If you need to increase the color quality or make it more intense, you can do this too.
Cyberlink offers a 30-day trial version with a limited template pack that you can download and try until you decide if it is right for you. We will add that this program works well with another consumer end product by Cyberlink called, "CyberLink PowerDVD," which plays DVDs, Blu-rays, and various other formats of video. It costs between $89.99 and $114, depending on which version you want to use and it comes with a variety of extra production programs as well.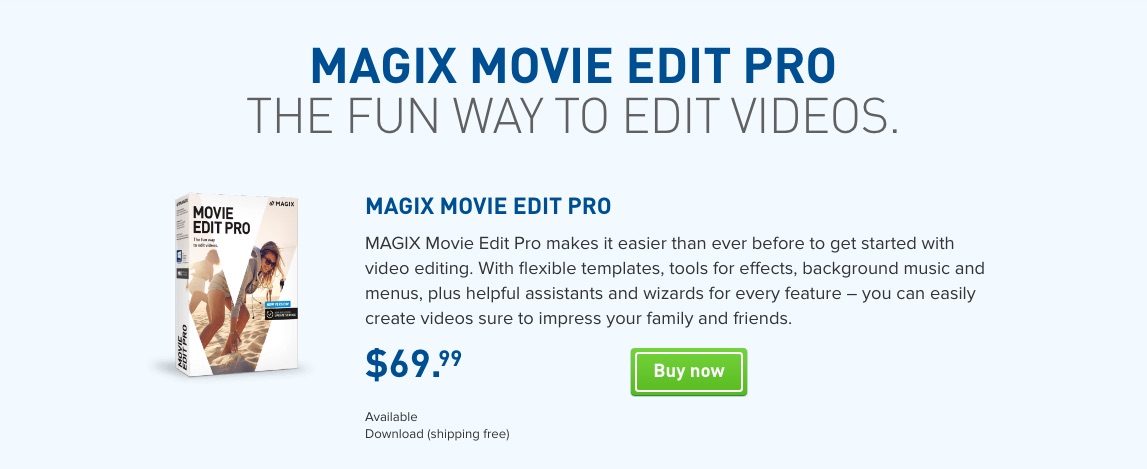 Magix Movie Edit Pro Review
Magix Movie Edit Pro is a fairly inexpensive program that allows you to create your own movies and videos easily. I have personally used at least two different versions of this program. This latest version has the following features:
Dual editing modes: storyboard and timeline– With the dual editing modes, you can see your movie in either storyboard or timeline modes. These are the two most important ways to edit for any video production task. In storyboard mode, you will see your story line as you are building it in the order it will be produced. The timeline shows where each clip starts and ends in exact time so that you can make your edits precise and exact.
Automatic wizard modes– For the beginning video editor or producer, this is a good tool to take you through the steps of the production process so that you are never having to guess whether you are completing it correctly. Expert algorithms are built into the software to lead you through the process. If you are more experienced you can, of course, opt to ignore the wizard and do it yourself.
Upload videos straight to Vimeo– For people who produce a lot of video to the Vimeo platform, this may be a great extra perk you'll want to have.
64-bit processing speed– With increased processing speed that is compatible with 64-bit processing, you will be able to create and process your videos in record time.
Rendering to multiple formats– You can save and render your movies to any format you need through Magix Movie Edit.
Magix is a company that specializes in multimedia software for the beginning or advanced producer. It is also inexpensive at only $69.99. In addition, Magix also offers music recording and editing software as well.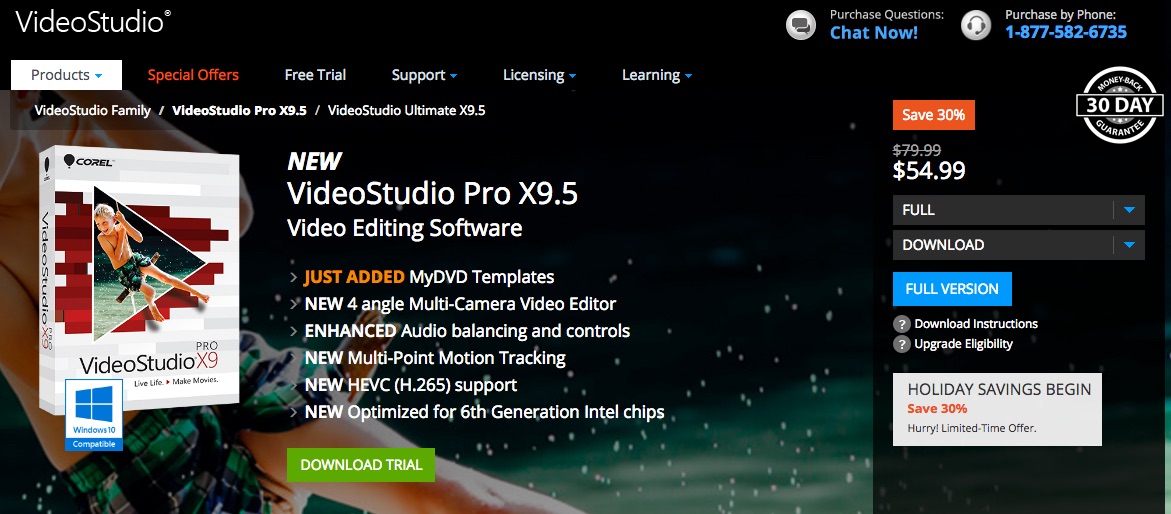 Corel Video Studio
Corel Video Studio is another video editing program that is both affordable and user-friendly. It is also one of the least expensive ones available, at only $54.99 currently on their website.
Corel Video Studio used to be known as Ulead Video Studio and it was one of the first programs I tried personally when I first started doing digital editing over a decade ago. The original Video Studio was somewhat simplistic but offered a quick and easy method of editing and producing video for your website or digital platform.
Let's look at some of the features that other users like about Corel Video Studio Ultimat X9.
Import videos, pictures, and sound.– Like most video editors, you can import your own media such as pictures, videos, and sound files into your production quickly and easily.
Use pre-designed templates.– This program has several pre-designed templates that you can use to accent and improve the quality of your videos.
Over 2000 effects, filters, and animations– Use one or more of the over 2000 effects included in the editing program, along with professional animations and filters.
Stablize your video– Stabilize your video with the stabilization feature effect within the video program.
Add color filters and special effects– If you want more or less color, use one of the color filters or special effects to further enhance your video.
Add animated titles– If your video could use some animation, why not try one of the many animated titles to add a little punch that will get their attention?
Multi-camera edit– The multi-camera edit features is an automation feature that seamlessly stitches together different clips in the order that the software finds appropriate for the ultimate effect. This saves time in production and it's cool to watch.
How to make marketing videos? Let AnimatedVideo.com Do the Design Work For You!
Well, there you have it. Those are three of the best consumer end video production software packages available today. You can try or or all of them to see what you think yourself. They are inexpensive so you would not be putting in a lot of cost.
What you might be sacrificing is your time. While many people love editing their own video, you have to ask yourself if you really have to time to do your own videos and have them come out looking professional?

If not, contact us. We are animatedvideo.com and we make it our job to create the perfect animated video for your business. Also, while the above software solutions are fine for most types of video, they don't do animations. You actually have to purchase a separate software solution for the animation part.
But we can do it all. Just check out our portfolio and see for yourself why we're considered the experts in animated video production.
Contact us to learn more.