Last Updated on April 13, 2022
A startup video is one of the most lucrative pieces of marketing strategies. Such a kind of video includes a short animated program that delivers the company's business idea in a quick, simple and persuasive way. The uniqueness of this video- it's a great combination of candid language, engaging animations and fascinating images. Needless to say, these videos can quickly capture the attention of all viewers within a brief period. In short, a startup video is a broadcast that has both informational and educational elements in it. It's presented in less than 90 seconds and within this time span, it expresses the core message of a company.
Almost all organizations prefer using videos to deliver their company's message. Among several types of videos, whiteboard video and animated explainer videos are the most straightforward methods to tell about your company's unique selling point. The startup explainer videos deliver help and support to the audience especially to convert website visitors into customers. All such videos provide scope to customers to solve their problems and explain to them why a consumer must choose the concerned company in the market to solve their pain point. Additionally, these videos can also act as – company testimonials or overview video to eventually attract the right kind of traffic you want.
The concise yet compelling startup videos have of late gained immense popularity among marketers as one of the most useful tools for marketing communications. Business owners have been enjoying enhanced benefits by using videos to increase sales and profits.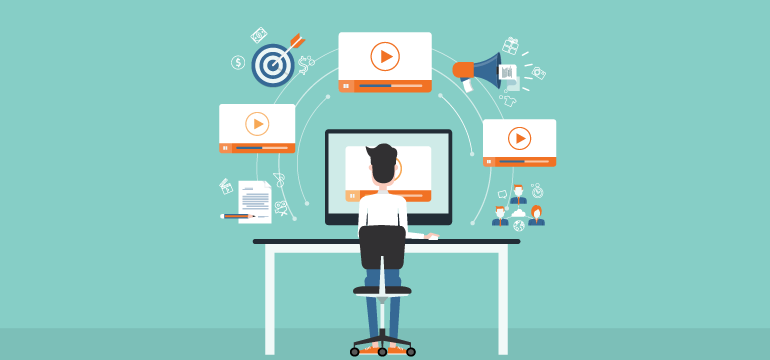 Wondering how videos can enhance your business journey?
Let's take a look below at the video statistics:
81% of businesses use video as a tool for marketing – according to 2017 survey report.
76% admit video helped them increase sales.
76% are of the view that video would help them increase traffic.
In situations when both video and text are available on the same page, 72% of people would prefer to use video to learn about a company's product or service.
85% of people say they'd prefer to see more videos from the existing and upcoming brands in the industry in 2018.
From the above data, it's quite obvious that with the advanced technology at hand, companies must devote their precious time in creating explainer videos today. In addition to that, videos are the best methods to comply with the ever-increasing customer demands also.
Take a look at the ways video marketing can grow your business:
Video Marketing Thrusts Increase User Engagement
A video is the better way to communicate your brand story with your potential and existing customers. This marketing tool represents a company in a brief yet attractive structure resulting maximum user engagement and increases in conversion rates. Incorporating video into your marketing campaign is sure to provide you scope to walk ahead of your competitors.
Video Provides Scope for Content to Rank Higher
Several online surveys prove that Web pages that have video incorporated in them have more chance to rank on search engine's first page. However, not all platforms give the desired results; an entrepreneur must know which are the best platforms to post his company's video stories.

Video – The Best Tool for Conversion
Video results in more traffic conversions. Marketers use video marketing strategy as a driving force to grow revenue faster than their peers who haven't invested in this profitable technology. However, a marketer must focus on the quality of the video content; it is the key factor when it comes to conversions. The secret is- invest in your content and you will see your ROI blow up surprisingly.
Now as you know what the benefits of video marketing are, it's obvious that as a marketer you would try to use video in your marketing campaign. But do you know how you will touch the pinnacle and wear the successful marketer crown? Do you know what steps you should follow to make an engaging startup video?
Here are the ultimate startup video making tips to boost your business ROI 10x faster
Short video production is nothing but turning a specifically clicked footage into a creative, storytelling motions. However, before producing a video, the marketer must focus on the basic needs of the audience, what he wants to convey and what he likes to present. The success of any video depends on the satisfaction of the audience.
Startup video production requires strategic planning to stand high in this competitive age. To achieve the optimum success, you can hire a professional video production company to guide you through the shooting process and the final broadcast.
Do you want to know how to create a video? It's simple.
Following are some of the ideas how to make a startup video for successful representation.
Tip 1: Choose a Perfect Style
The first and foremost criteria of a startup video production are to pay attention to the style of the broadcast. Needless to say, your audience will judge the importance of a video from the first look of it. So there's need to encompass attractive and trendy styles. Focus the way you want to present the video-
What kind of elements do you want to use?
How should your characters look like?
Does the video reflect professionalism etc.?
Create staggering corporate video and engage more and more customers.
Tip 2: Use Premium Quality Lighting
Lighting is yet another most important factor that contributes to the making of an impressive and profitable video. Hence, you need to invest in a lighting kit judiciously at least with three lights- key light, fill light and backlight. Best quality lights would enhance your image aspect. According to expert video producers, lack of proper lighting and absence of good sound quality would result in lousy production. So, every marketer who wishes to use startup video as a marketing tool should invest in a proper lighting kit and a finest quality sound recording device.
Tip 3: Create Best Sound Service
In animated video production, sound also plays a significant role besides other vitals. With the best sound quality, you can impress your audience and further increase consumer participation. Invest in excellent standards of soundtracks. Every video also needs perfect Voice Over score for making the entire presentation complete. Hence, consider investing in a premium quality lapel/ lavaliere microphone that would value-add to your production.

Tip 4: Deliver a Compelling Message
When you start planning to market with startup video, it is essential that you focus the way you deliver your core message to your audience.
Create an attention-grabbing message and let your target audience know why your brand is the ultimate brand one should start following  In any start video you'll have only 90 seconds to tell your story and understand that the first few 5-6 seconds are extremely crucial to capture audience's attention. Aim at clarifying your prospects why should one choose you amidst your peers.
Tip 5: Understand the Importance of Images
Not a single explainer video is complete without images and characters. Many established animated video marketers are of the view that videos become more valuable when it has animated characters in it. In recent times, animation has become one of the most popular explainer video styles to date. Audience prefers stories related to their life and in this regard, animation characters can complete the storytelling task properly.
Sometimes marketers can also think of using life characters to shoot explainer videos. For this, you need a proper understanding of camera and camera angels to deliver a professional program in look and feel. Acquire a tripod with a fluid head to shot steady pictures with a smooth finish. While you plan for life shooting focus on the – video composition, size of shot, lighting and background ambiance combined with overall quality.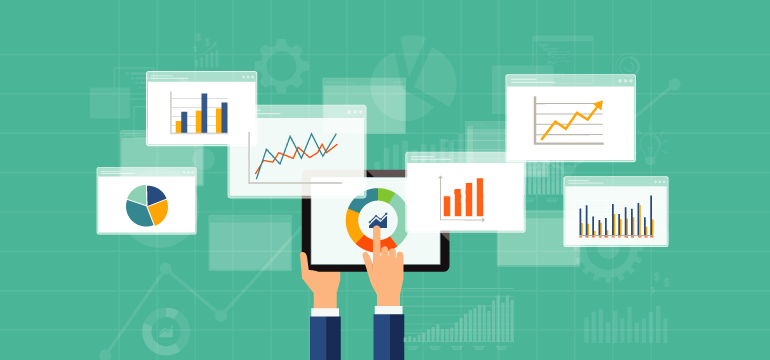 Tip 6: Don't forget about CTA – Call-To-Action
Call To Action is the completion of your video, it binds together what you want to say and finally shows your leads the next step of action they should take once they find you.  Use Call -To Actions' in a useful way to get more clients.
Tip 7: Complete Your Video with Proper Editing
Editing is the final touch up session that enables you to produce a masterpiece for your viewers. After the processes of presentation, animation or live-action shooting and sound recording, editing is required to rearrange all the created task and bind them together to produce a meaningful program for your viewers. Editing is a part of post production process that includes color correction, sound mixing and final presentation.
How to edit videos?
The processes of linear and non -linear editing is handled properly with best editing software like Final Cut Pro, Adobe Premiere or you can use free video editing software such as:
Freemake Video Converter: Freemake Video Converter is ideal to convert video between video formats, create photo slideshows or rip video DVDs.
VirtualDub: A VirtualDub is a video capture and processing utility that is ideal for 32-bit and 64-bit Windows platforms It is streamlined for fast linear operations.
WeVideo: This free online video editing software enables you to mix and match more than 600 formats of images, graphics, audio and video.
Windows Movie Maker: This freemium software is a startup video maker ideal for Windows XP, Vista, 7, 8, 10. Using it, you can turn your photos and videos into polished movies forms. This software also allows you to add special effects, transitions, sound and captions, etc. to make the video more captivating. Your audience will have an engaging time whether they view it on any social media channels, computer or TV sets.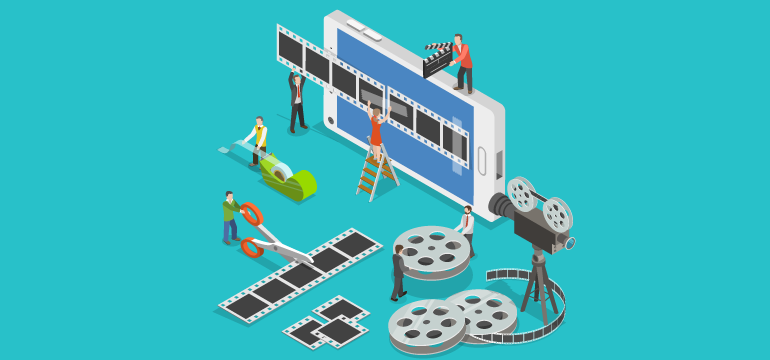 To ease your editing process here are some of the video editing tips:  
Editing Tip 1
Take care of the length: Keep the video length shorter, they should not last more than 90 seconds. Viewers respond to pieces that are interesting yet doesn't consume much of their time.
Editing Tip 2
Keep the topic simple: Your videos will get more views when they are free from all kinds of complexities. The idea is not to overload your audience with too much information and bore them. Streamline the content and edit it to present a more explicit message.
Editing Tip 3
Create a masterpiece: Video appearance matters. While manipulating with your work aim at developing a presentation that is a treat to your viewers' eyes. Invest more time in fine tuning your clip.
Tip 8: Post your Videos on Social Platforms for More Views
Once you complete all the technicalities of video production and editing, now it's your turn to put it in some most visited social media platforms for more views and shares. Producing a high quality video is not enough, you must post it in channels like YouTube, Facebook, LinkedIn, etc. so that your brand name gets popularity and simultaneously you get the desired amount of traffic to boost your business bottom line finally.

Enjoy creating the best startup video with the best video production services
Are you searching for a production company to create the best videos in the industry?
Do you want to walk ahead of your competitors?
Visit Animatedvideo.com; we have a team of accomplished professionals who have years of experience in serving companies worldwide. These talented group of people can help you produce the most engaging clip and attract a huge client base.
To wrap up
Videos have been playing a crucial role in attracting business clients. In recent times these visual marketing elements are sure to rule. But before you produce a video, you must know what the best practices are. The points mentioned above complete the conceptual idea. Precisely, your produced video would yield better results and amplify your business if you follow the guideline. Create your masterpiece and grab the attention of your target audience, convert lead and finally boost business ROI.