Last Updated on April 13, 2022
With video now being more in demand than ever before, it's up to brands and businesses to start thinking about how they can convert their existing text and image based content into video. At the same time, it's also important for content creators to not just think of video creation as just placing a video on their site, but instead the opportunities available through outlets like YouTube, Vimeo, DailyMotion and Facebook.
One of the most effective ways to turn your content into much more than text, is through the use of infographics. Not only do they help portray your message and data through visuals, they can also be used to increase a business's presence on the web.  Infographics do have value when you are trying to piece together a lot of information in one place, while also having the possibility to go viral at any time.
Infographics are great for all types of data, but even more helpful when you have math-based data and statistics such as:
Graphs and charts
Numerical data and information that is better told with numbers than words
Pictures and illustrations
Also, infographics are useful for disseminating information that you don't want to bore the reader within the text.
The old saying, "A picture is worth a thousand words" comes into play here.
However, as wonderful as infographics are, they also have limitations.
Despite the move from the text that takes people several minutes to read to a picture with illustrations and data, infographics are still composed of a static image or collage of images that is two-dimensional. While this is an ideal format for infographic delivery, it still is static and motionless in it's form. The internet is now more about engagement and timeliness than ever before, and with this in mind you need to consider to put your infographic information in other formats as well.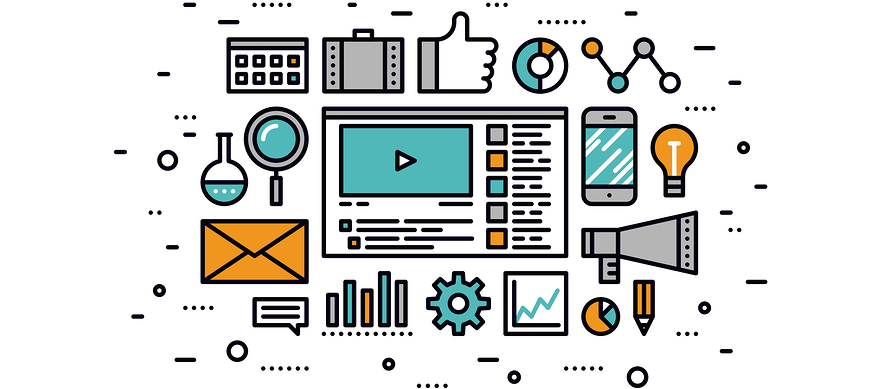 Why use Video?
As we speak, video is transforming the way data is being delivered and how people are using the internet. Thousands of hours of new video footage will have been uploaded to the internet by the time you finish this sentence. Video is here and it's usage and reach just continues to grow on a daily basis.
The use of video is one of the most efficient ways to assimilate that data from your infographics and put it in a form where people will reach a higher level of engagement and involvement in your message.
Video Marketing Stats
Over 65% of individuals who purchase a product claim that they first saw a video about the item previous to purchasing.
Unbounce reports that putting video on a page in any form will increase conversions by 80%. That's a great number and is too significant to ignore.
So it's clear that video is the winner when it comes to choosing the best way to get your message out there to the masses, and especially to your target audience.
But you don't want to waste the time and investment you made on your infographics, especially if they were well thought-out and relevant to your brand's message and purpose.
Infographics Meets Explainer Video
So how can you start using infographics and data to creative effective online video? The answer is to create a stunning explainer video to communicate the same information that you have on your infographic. This is the perfect solution to gathering and aggregating the data and putting it in a form that people will connect with and share.
It's the best of both worlds to combine the power of the data in a well-designed infographic and turn it into a great video. You can see a working example of one of our most recent explainer videos below.
The Beauty the Explainer Video
Since infographics are inherently intertwined with information, it is only natural that you create an explainer video with your infographic information. You will also want to consider the establishment of an animated video instead of a talking head video since statistics also show that people prefer animations over talking head types.
In one of our previous articles, we make some important points about why you should use animated forms of video instead of talking head or action videos.
Total Creative Freedom
One of the reasons given for this decision is that it allows you to have total control over your environment. Like a movie producer that is creating an animated film, you can use animations to tell your story in a form that users will love and manipulate the characters and objects in any way you see fit. At the same time, it's also a much more cost effective solution versus having to hire a production team and someone to memorize and deliver your message.
This is known as total creative freedom, and that is one of the best reasons you should consider creating an animated video when you are ready to put your infographic information out there in a tangible form.
The DIY Method
As with all content creation, the option is always there to outsource the process or try to figure it out on your own. You can always do a video yourself using nothing more than a reasonably-priced studio or handheld digital video camera and some cheap editing software that you download from the internet or purchase online. However, when most people factor in the amount of time it takes to learn new software and focus on something they aren't an expert at, it's already taken up too much of their time and the final project usually doesn't come out as expected.


Trust the Pros
If you want to make an immediate impact, it's best to put this process in the hands of people who do this all of the time.
AnimatedVideo.com knows this business and have created animated videos and infographics for hundreds of businesses and brands around the world. We can put together a strategic plan for creating your animated video from existing or new infographics and getting them in front of the people you most need to reach.
Take a look at the quick 5-step process we have developed so we can work closely with all of our clients to make sure the end result is exactly what they are looking for.
Conceptualization – We discuss with you to understand what you need.
Script & Storyboard – We write the story. You just review & approve.
Graphic & Voice – We get the visuals designed and voice over done as per your choice.
Animation – We create the animated video, along with sound and voice over.
Review – Once everything looks good and is confirmed, it's time to go live!
Contact us today to find out how we can help you get your message to the masses in a medium that people will respond to and increase your conversions.