Last Updated on April 13, 2022
When running an online or offline business, it's all about coming up with new and exciting ways to get your brand messaging to new audiences. Video marketing campaign on Google Adwords is one of the hottest and most effective ways to get people's attention towards what your business or brand has to offer. Have you considered how you are going to maximize your profit and raise your brand awareness through the use of online video and internet marketing? Google AdWords is a great step toward that.
Have you ever thought about setting up a video marketing campaign within Google Adwords? Google Adwords is one of the many ways that you can create and measure the success of a video ad campaign within Google. Google is the number one search engine and has some features to help you plan your ad campaigns.
Many people get Google adwords video ads mixed up with Google Adsense. Google Adsense lets you make money by offering ads on your videos from other people. Google Adwords allows you to create the ads yourself that run on various other people's videos and platforms. But creating a video marketing campaign will allow you to advertise your brand through a video ad that runs in various places where it will do the best.
Adwords for video work by allowing you to purchase advertising using keywords and other elements to connect with your targeted audience.
How to create video ads in adwords?
In this post, we will take you through the steps of creating an Adwords campaign and give you the tools you need to make it work so that you can do it yourself.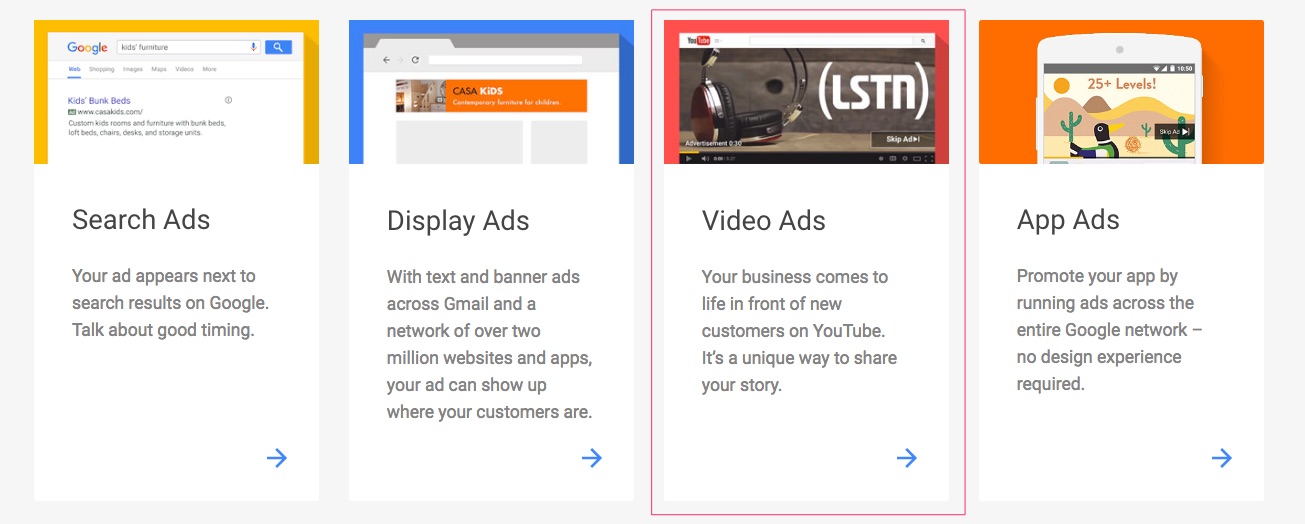 Step 1: Sign into your AdWords account
Google AdWords is available to anyone who signs up for an AdWords account. It was created to help Gmail members to create an ad for any platform that you are using to display your ad to millions of potential customers. It used customized advertising and operates on a "pay-per-click" basis.
The customize ad part means that it will learn the preferences of people as they shop and then display your ad in front of the people who are most likely to buy.
This is why Google AdWords is such a great and cost-effective way of increasing your ROI and maximizing the impact you have on your target audience.
If you are an agency or consultant for multiple clients, you will need to make sure that you log into your managed account that is about the particular client that you wish to accomplish.
Once you log into your dashboard or your customers' dashboard that you are managing, you will want to go into your managed accounts and look at the "Campaigns" tab.
Step 2: Look at the campaigns tab and click it.
Once you are logged into your campaigns tab, you will be able to see your current video campaigns and other campaigns that you currently have running. If you do not have any campaigns running yet, you will not see any others running.
Step 3: Create a new Online Video Campaign
To create a new online video campaign or if you are starting one for the first time, you will need to name your video a unique name. Then name a daily budget. This is important and should be considered carefully. The daily budget is the total amount that you are willing to spend on advertising through your target locations. You will also need to decide on your target locations, audiences, and languages at this time.

Step 4: Provide the URL
Once you have followed all of the above steps, you will need to provide the URL to the public YouTube video that you want to advertise. Once you have done this, you will need to customize your in-stream ad and also set a frequency cap.
Step 5: Select your target audience
This is a crucial step. When you are selecting your target audience, you will need to think about what group of people or subsection will you benefit most from advertising to. You cannot put your ad out to the whole world, though it may seem that way.
So you need to think of the people you are trying to reach as a very distinct subset of individuals who are interested in what you have to offer and who would be interested in watching your video.
Remember also that, unlike text-based ads, a video requires the undivided attention of your audience. So it will need to be something that your target audience will want to see and respond to.
With video advertising, it is not enough to get people to watch your video. You need to get them to watch it through to the end, or at least until your "call-to-action" that asks them to do whatever it is that you want them to do.
Provide a name for the target group and choose a maximum number of cost-per-views. With video ads on AdWords, you are paying not for clicks but actual views.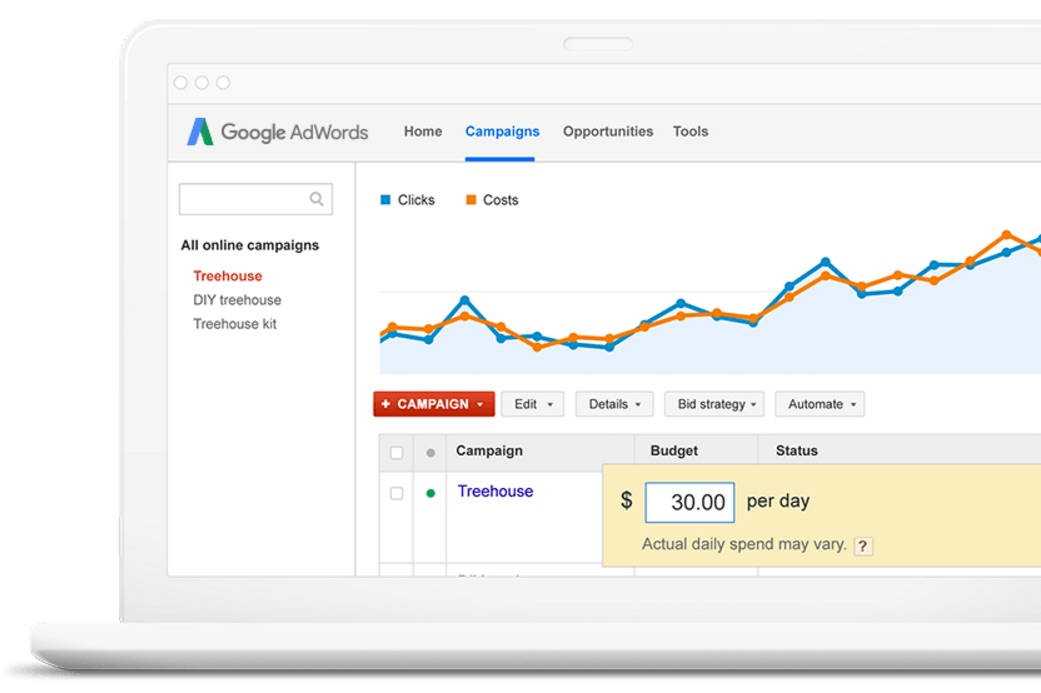 Online Video Metrics
With online video, you can define the metrics that you wish to define based on some factors including:
Gender
Age
Parental status
Interests
Topics
Keyword lists
Remarketing lists
Once you have followed these necessary steps, you have created the initial steps of setting your video campaign in motion. The next step is to measure the progress of it in Google Analytics. This page shows you tips on how you can gauge the success of your Google AdWords campaigns in your Google Analytics dashboard.
One way is to watch your bounce rate. By keeping a close eye on your bounce rate, you will have a good idea of whether your visitors are bouncing off the page too fast for your ads. Another way is to focus on the "paid search" options within your Google Analytics dashboard.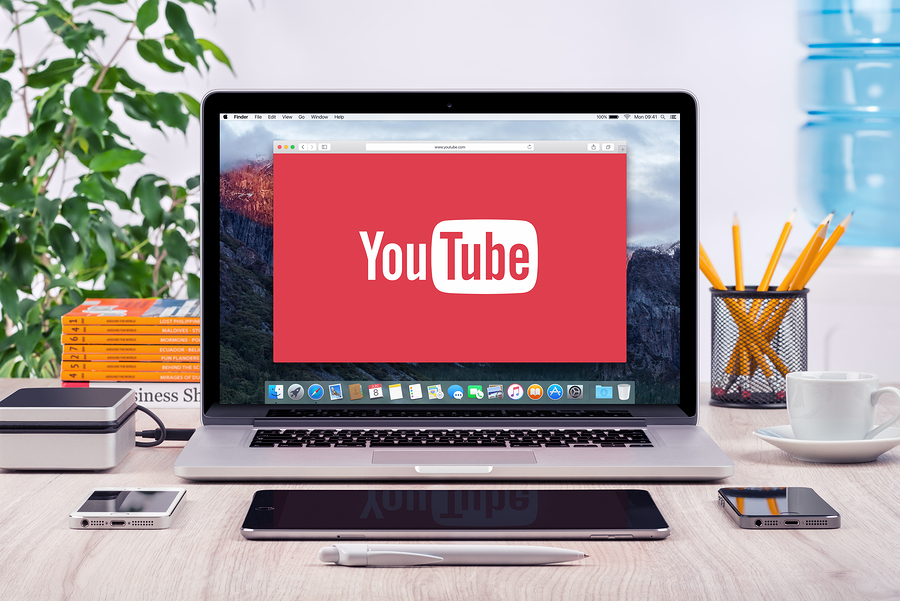 Video Campaign Targeting
An essential thing that you should learn to focus on when you measure the progress and success of your online video marketing campaigns is to get familiar with the specific targeting groups and use them well. You also do not want to focus on too many demographics at a time. If you want to see if females age 16-21 are shopping on your site more and responding to your ads, you need to let this be your target audience until you can collect the data from that.
You can measure many other metrics at another time, but you don't want to measure too many at the same time as this could prove to be difficult to decide what factors worked the best.
An in-depth study of both Google AdWords and Google Analytics may turn out to enlighten the business owner on how to interpret the statistical data that Google Analytics, YouTube, and the Google AdWords dashboard will show you once you have an active video ad campaign. You can also use adwords to promote YouTube channel.
For a more in-depth overview of some additional setup features, read Google's help page for creating video ads with AdWords for video.
Do you have a video?
Before you start assigning target audiences, creating ad campaigns, and measuring the progress with your target groups, you first need a video.
You need a great video. That's where our professional video creation and editing team comes in.
We have years of experience with creating custom animations that will resonate with your target audience.
We also have a good understanding of how these tools work such as Google AdWords and Google Analytics that will increase your results.
If you would like advice on where to start, if you need a sensational custom video created, or just need some general tips on how to create a great video ad campaign, visit us online at animatedvideo.com.
It all starts with a great video.