Last Updated on April 13, 2022
Explainer videos are simply one of the most effective ways to grab the attention of your audience while getting your point across in a short period of time. Not only do explainer videos walk your audience through the process of how something works, they also keep them engaged and wanting more.
With most explainer videos being short and getting right to the point, they've quickly become one of the most effective ways for websites to convert visitors into paying customers. Millions of businesses and brands are now using explainer videos not only to inform their audience about what they do, but are also seeing improved conversion rates and engagement across the board.
In this article, we are going to take a look at why every website should be using explainer videos, the many different types of explainer videos available and how you can create one for your website today.
What is an Explainer Video?
Explainer videos are short online videos that are used to explain how a website, service or product works. It's not uncommon to find online businesses using explainer videos on the main page of their sites as a quick introduction on how their service works. With video being one of the most sought after platforms for content online, businesses and brands of all sizes are seeing improved engagement with explainer videos versus regular text website or blog content.
You can see an example of an explainer video that was created by our video animation team below.
When it comes to the creation of your video, the sky is the limit. Since every whiteboard video is 100% custom made for our clients, each video is built from the ground up to match the look, feel and message you want to deliver to your audience.
Different Types of Explainer Videos
Just like websites, graphics and content writing… explainer videos also come in a wide variety of formats, designs, and costs. The best way to decide which format is best for you and your budget is to see each a live example of each. Our video production and design team at AnimatedVideo.com has created custom explainer videos for hundreds of clients and you can see a few of our hand-selected favorites below. As mentioned earlier, each video created by our design team is completely customized to meet the needs and messaging requirements of our clients.
In addition to using explainer videos on their own sites, many brands have found YouTube as a reliable source of new traffic and incoming leads. No matter what your message is or how you plan to deliver content to your audience, we have the perfect video format for you to choose from below.
When it comes time to create your explainer video, you want to make sure you put in the needed time, effort and investment to make sure the end project comes out perfectly. 2D explainer videos in full color are simply one of the most effective and beautiful ways to get your message across to an audience. With full color, original artwork and voiceovers, your audience will know exactly what you are providing as a service and will be entertained and fully engaged throughout the video.
Whiteboard Explainer Videos
Whiteboard explainer videos have quickly become one of the most sought after methods for effectively explaining a business, product or service online. One of the many reasons why whiteboard animation videos work so well, is that they actually walk the viewer through any process step by step. This is done through the use of a 'whiteboard' concept, with a hand drawing the graphics throughout the video. In addition to the hand drawing each part of the video, a voiceover will bring the full animation and process to life.
Motion Graphics Explainer Videos
Motion graphics explainer videos are a great option for anyone looking to have a quick video created without the extra costs of complete customization and original design. The way motion graphics explainer videos work is just the way it sounds — with animated graphics. Each video is comprised of pictures, words, sound and video to bring your message and call-to-action to life.
View the explainer video below to see how AnimatedVideo.com's design team can bring your brand and message to life through the use of motion graphics, text, and audio.
To see more examples of 2D, whiteboard and motion graphics explainer videos created by our design team, be sure to view our portfolio page.
5 Steps to Creating a Great Explainer Video
Now that we've covered what an explainer video is and the many different options you have to choose from, it's time to start pulling everything together so you can start creating an original video of your own.
Before going live with your explainer video or handing it off to someone to complete, you must first understand what it takes to create an effective, professional and successful explainer video from the ground up. This preparation before the actual creation of your video will lead to a higher quality and more effective video than if you were to try and figure it out during the creation and production process.
Here are the five components needed to create an effective explainer video.
Script – What is your explainer video going to be about, how many characters will be in it and how long should it be?
Voiceover – After creating a script, you will also need to consider your options for who you can hire to do the voice overs for characters within your video.
Video Production – In addition to a script and voiceover, video production is also necessary to bring your idea to life and make everything seamlessly come together.
Music and Sound Effects – Background music and sound effects can do wonders for the overall engagement and attention your audience provides while watching your video.
Measuring Explainer Video Performance – After your explainer video goes live, how are you going to track its performance? Without having the proper stats and tracking system in place, you will never know how many views, shares, and conversions were a result of your explainer video.
For the average person or business who might be looking to create an explainer video of their own, the concept of putting all of these components together and producing a video of their own might seem overwhelming — because it is! The good news is that the team at AnimatedVideo.com has worked with thousands of clients and has all of the necessary templates, tools and video production in place to make sure e is done correctly the first time around. With our easy to use project template forms and support team, we can bring any whiteboard video concept and idea to life!
How to Create Your Own Explainer Video Today
You know your brand and you know your business. What you probably don't know, is how to create high-quality video content that brings your brand messaging to life and represents you well. That's where the professional team at AnimatedVideo.com comes in. We've helped thousands of individuals, businesses and brands take control over their brand messaging while also increasing conversions and ROI across the board.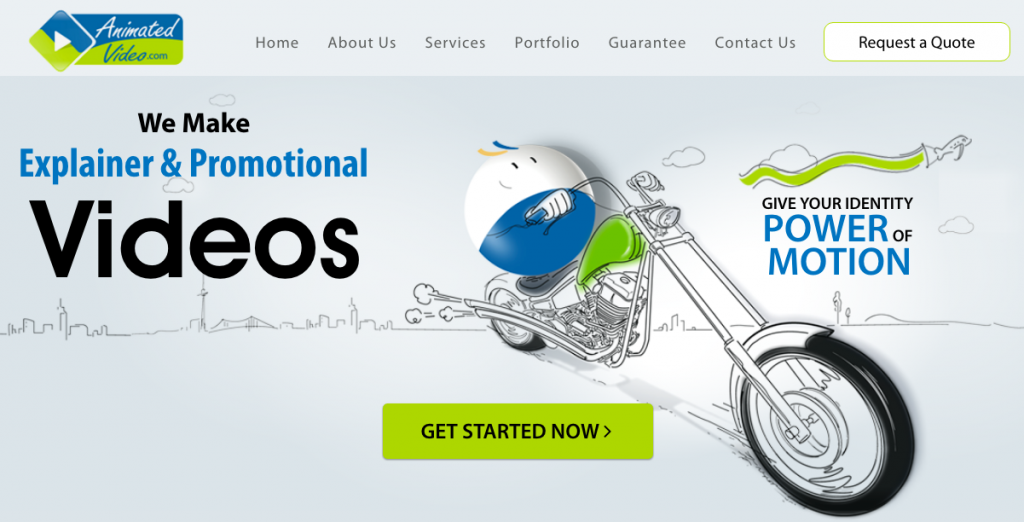 Work alongside our professional design team to bring your idea to life, and allow us to walk you through the process step by step. Click here to request a free quote and see how we can help create an amazing explainer video for your business or brand today.