Last Updated on April 13, 2022
If you are looking for places to legally purchase music, audio, and voice over files, this is the post for you.In this post, we will look at top 10 sites for buying music, audio and voice-over files.
We all have our eyes and ears tuned to great audio files these days. We need a collection of sound clips and audio files that we can use in productions without the fear of infringing on copyright or patents of recording artists.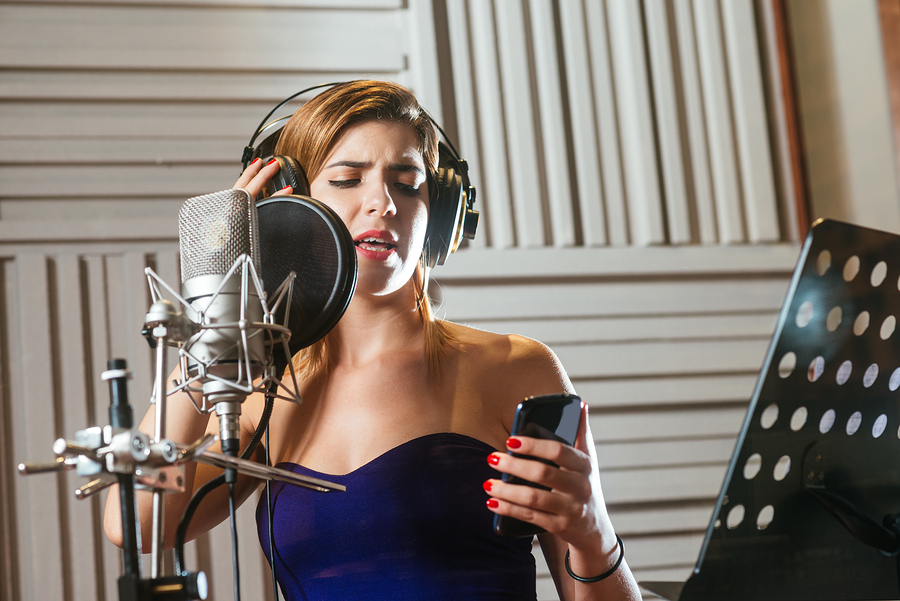 Crossing the Line
The Napster scandal that saw the FBI take millions of dollars out of that companies tin and slapping them hard as an example of pure copyright infringement has taught everyone a lesson about how strict the law can be.
Napster now operates a pay-as-you-play company known as Rhapsody, which was previously started by Realnetworks.com.
The bottom line is: As long as you purchase royalty-free music, you have full legal rights to use them in your commercial projects.
Free does not always mean "free use."
However, you should just make sure that the songs you are using are "full rights" licenses. One of the most misunderstood notions is that you are free to use music you download or purchase from Amazon or some of the other music sites just because you purchased it.
This is not true.
You may play the songs on your mp3 players, enjoys them on your computer or mobile devices if you purchase them, but you do not have a license to put them in commercial projects unless you purchase a commercial license.
We are are referring here to anything you might purchase on the major platform sites such as iTunes.com, Amazon.com, and others. These songs are not free to use unless it states that they have royalty-free music.
Royalty-free Music
That being said, there are also plenty of royalty-free songs and soundtracks available for you to use even in your commercial projects.
Keep in mind that these can be costly, while others are relatively inexpensive.
We have listed 10 of the best sites to locate music, audio, and voice files that you can use for your commercial projects. But be sure to check the license you are purchasing to be sure.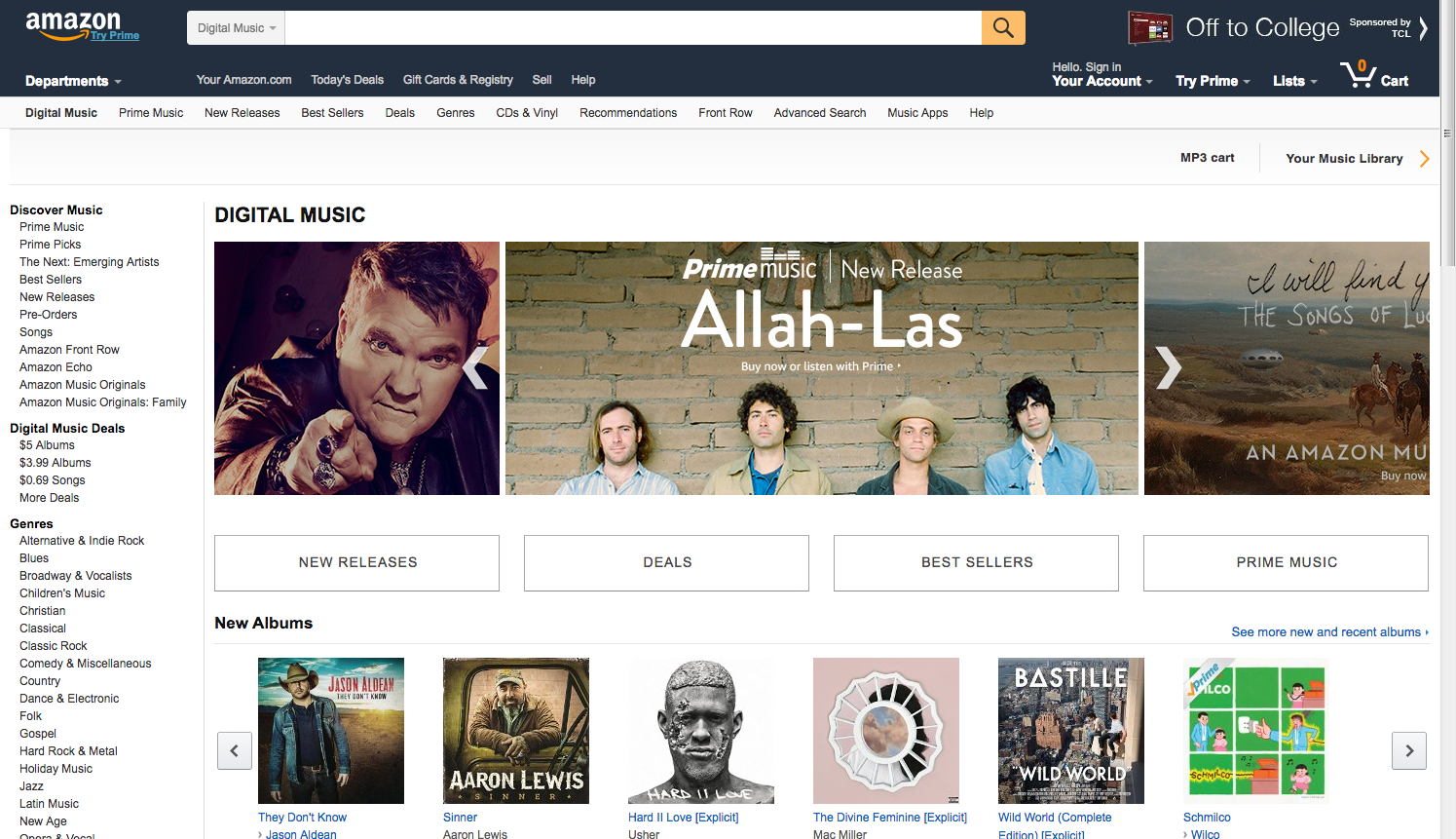 1. Amazon.com
We mentioned Amazon previously as a place where many songs are not allowed to be used in commercial projects without the express, written consent of both the artists and songwriters. However, there are some royalty-free songs available in Amazon Music that you can find if you search for "royalty-free music."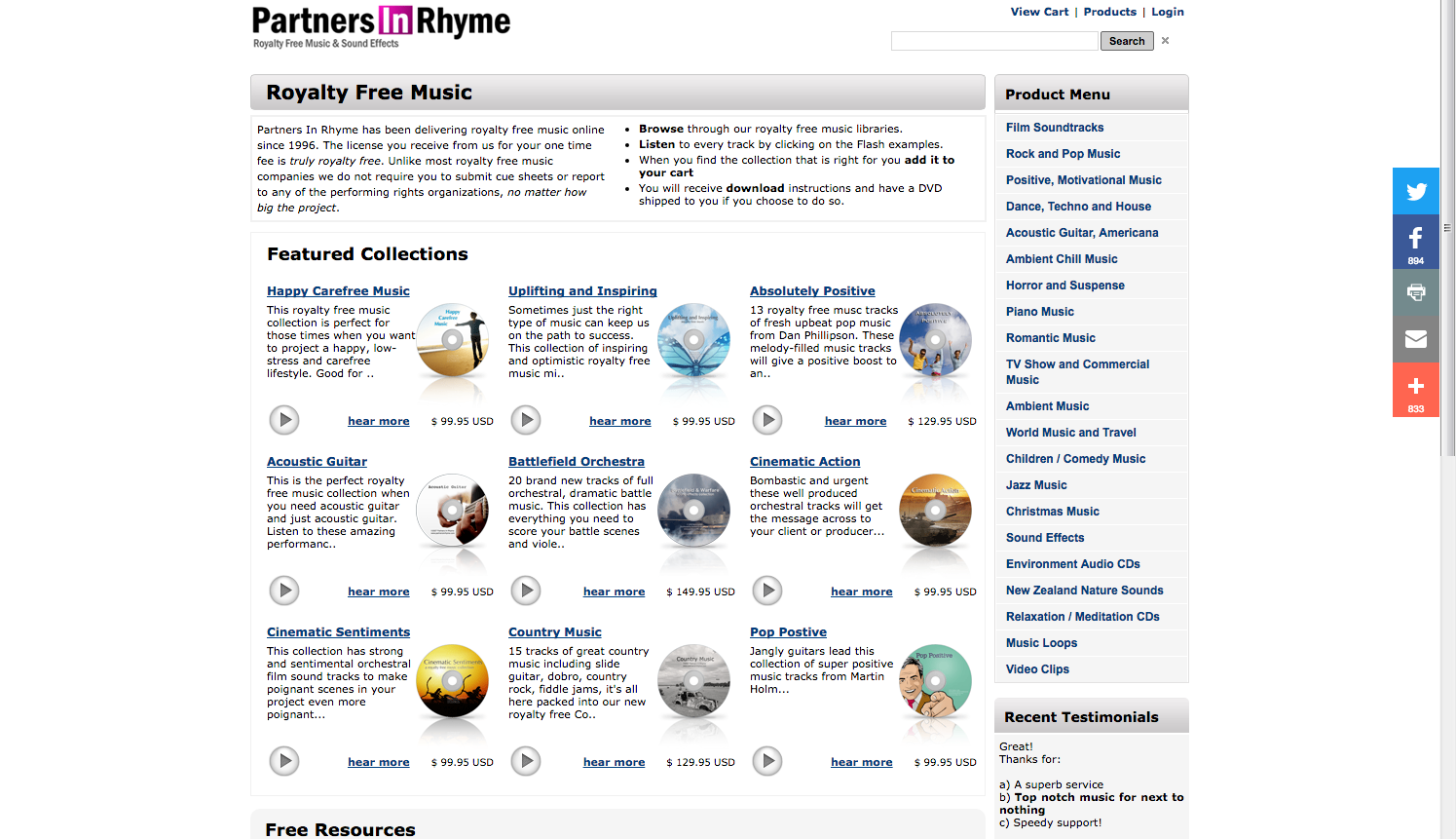 Partners in Rhyme is a company founded by Mark Lewis, former lead singer of "Devo." I actually chatted with him via email a few times and he offered me free songs I could use in my commercial projects. Mark is a seasoned musician and he created the company to aid brands and musicians in having access to music tracks that can enhance video and other projects on a commercial level. The rule of Partners is Rhyme is that you may download any of their "free tracks" to use in your commercial projects without charge. But their better soundtracks are all on CD media and cost upwards between $99 per disc. So prepare to spend some money on them. The good thing is that once you purchase them, you own the license for life.
YouTube offers a number of great quality audio tracks that are absolutely free to use in your commercial projects. Scan down the list of available tracks and try them out right on the site. It's, a lot of, fun and I have personally downloaded a number of them to use in intros and outros. You do have to watch the details when you download them, though. Some of the free tracks require attribution to the original musician or artist to use them. So be sure you do that if it's required. Also, YouTube will automatically block any files that are not approved to be used in commercial projects.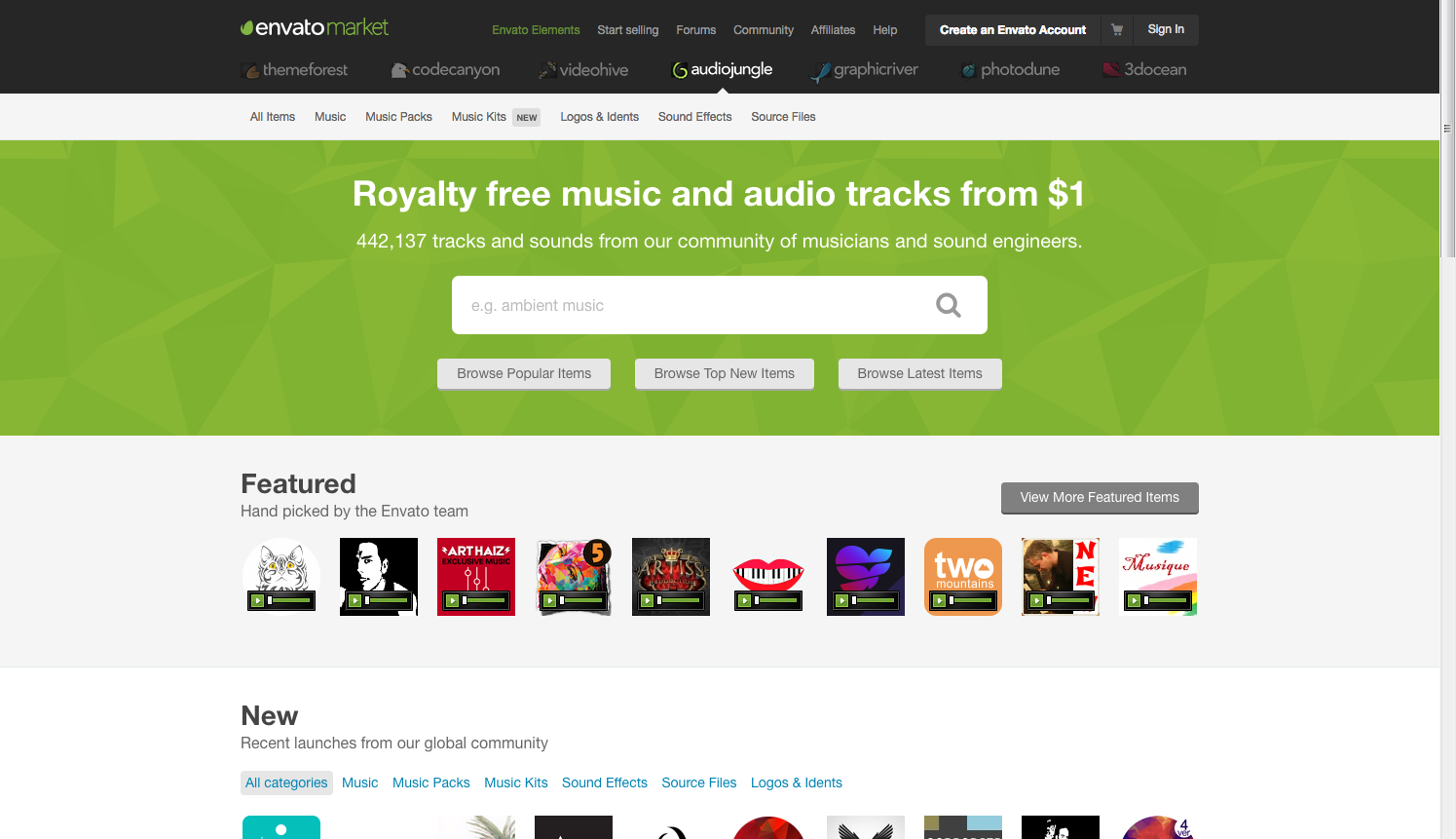 This is an independent site that is made up of audio production artists and independents looking to get some attention for their self-created tracks. You can find a little bit of everything there and most tracks can be purchased for full rights. Prices start at $1.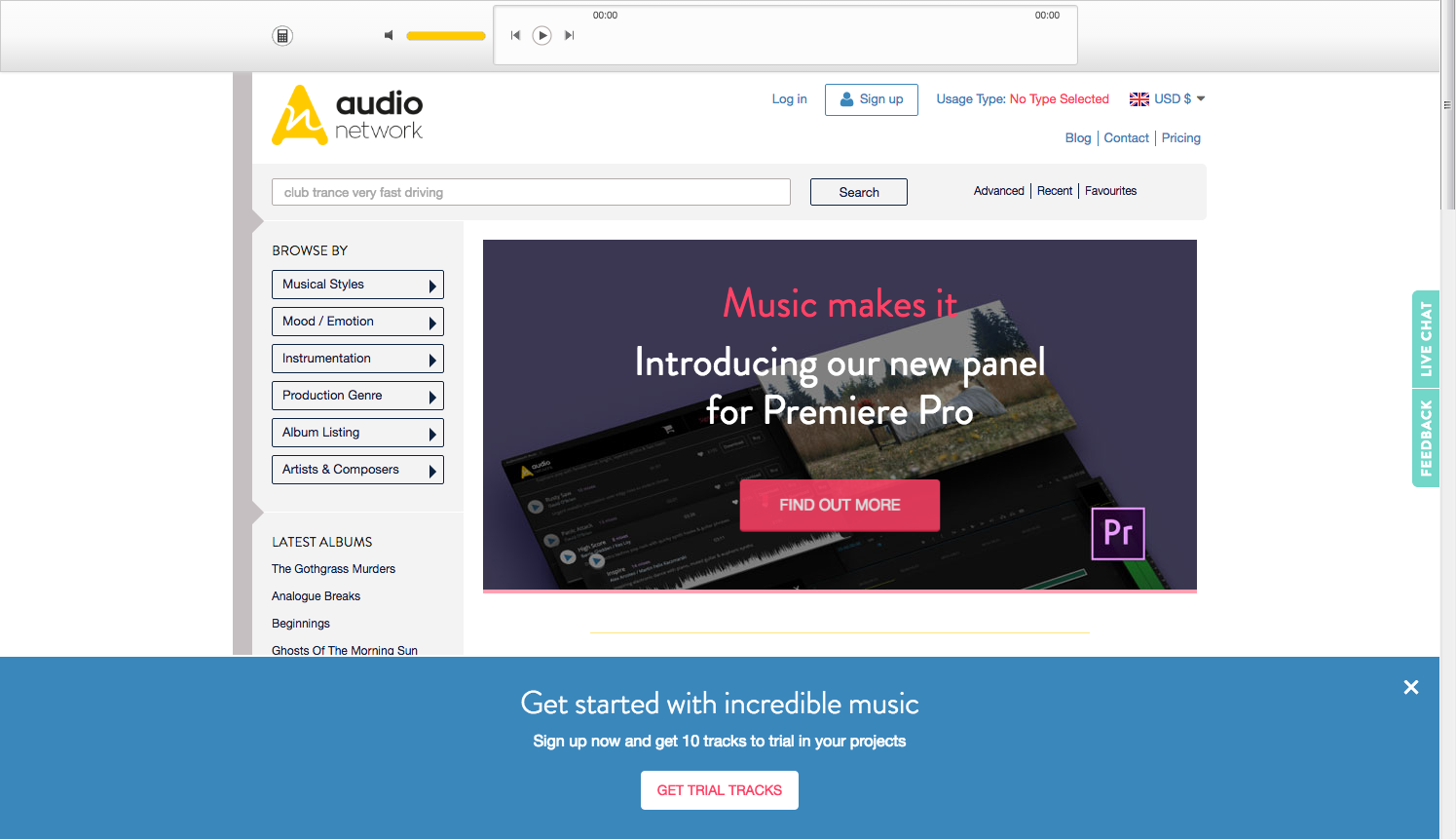 Audio Network is a UK-based audio file store that allows you to download audio tracks and voiceovers, music tracks, and other types to use in your projects. They have a special deal running currently that lets you have 10 free tracks to try out their service. It is a subscription service but you can also purchase tracks individually, it appears.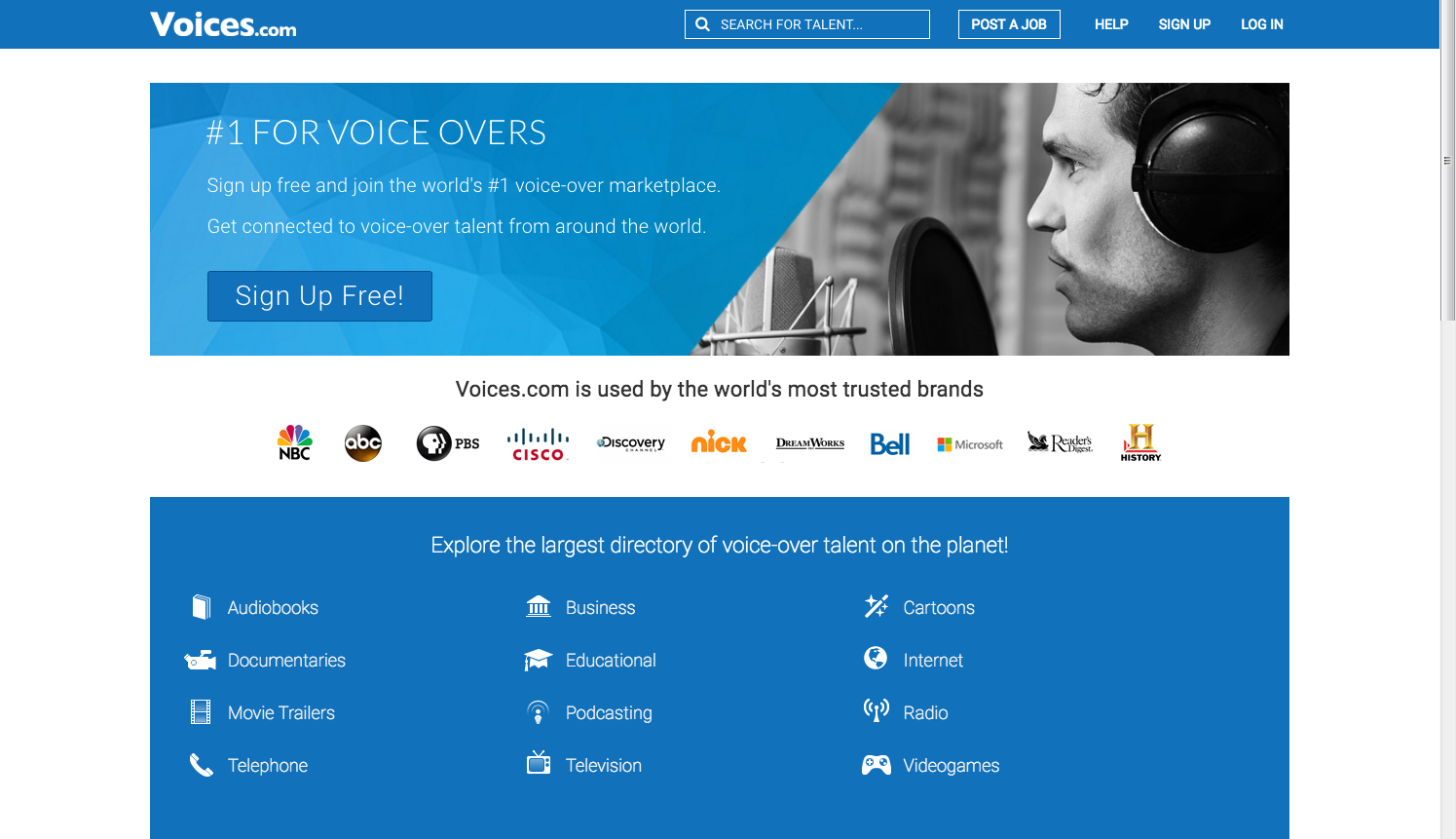 6. Voices.com
Voices.com is one of the foremost premiere sites for procuring vocal talent in today's audio and video market. You will find everything from beginning vocal artists to well-known disc jockeys and movie animator voices. The cost is fairly high on Voices.com because of the costs involved in getting and producing the high-quality voice talent that Voices.com has become known for. It's a very good site to keep in mind if you want high-quality professional voice talent for a variety of formats and purposes.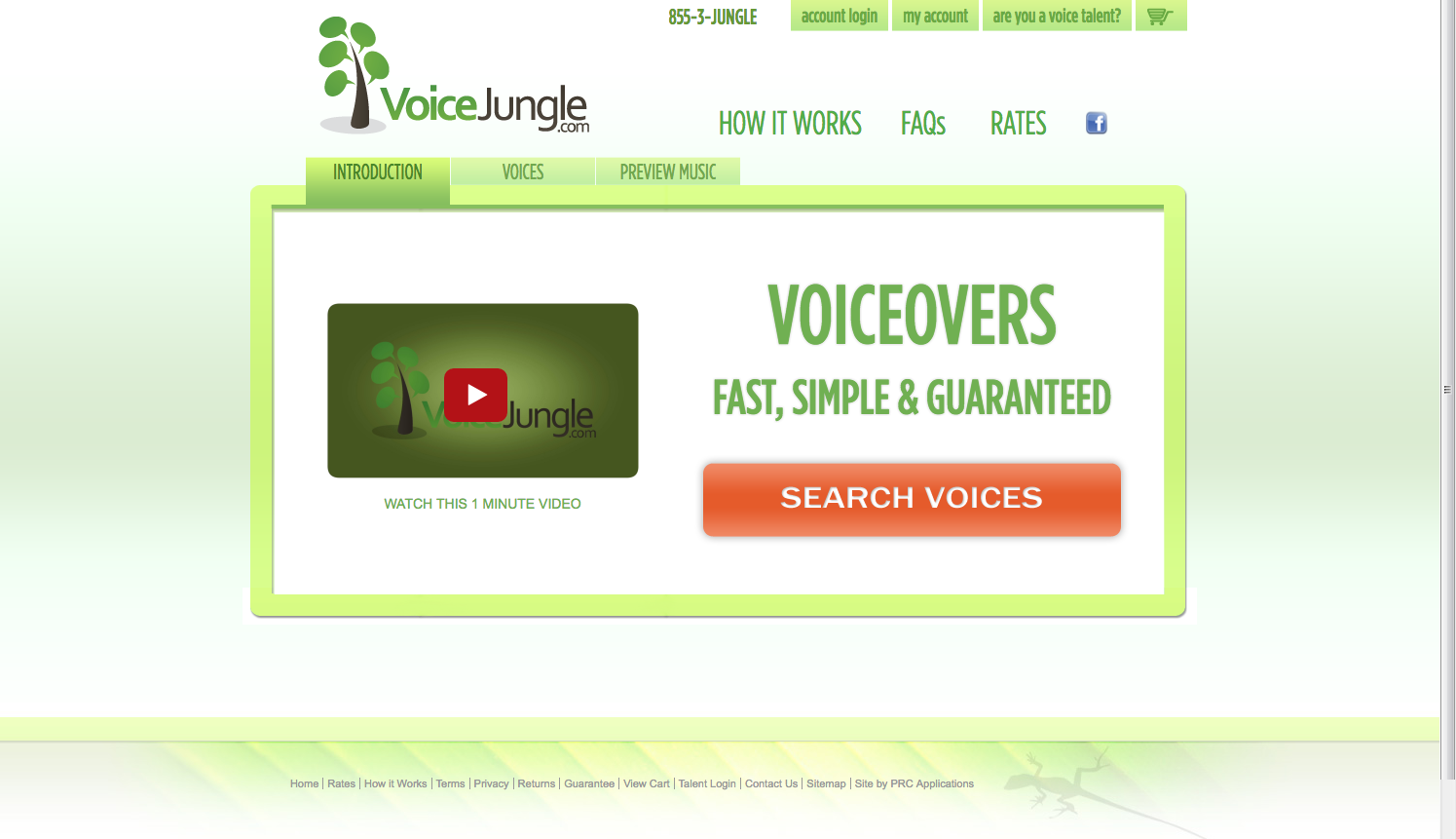 Voice Jungle is a place to find expert voiceovers that you can purchase on demand. You can listen to various voiceover talent and purchase that artist's time and talent by buying a voiceover online. Prices range from $39 for a 5-second spot to $90 for a 2-second spot. They have a guarantee for satisfaction if, you're not satisfied so it's a pretty safe site to deal with. It's not, as big as Voices.com but it is much faster since there is no audition process for the artists.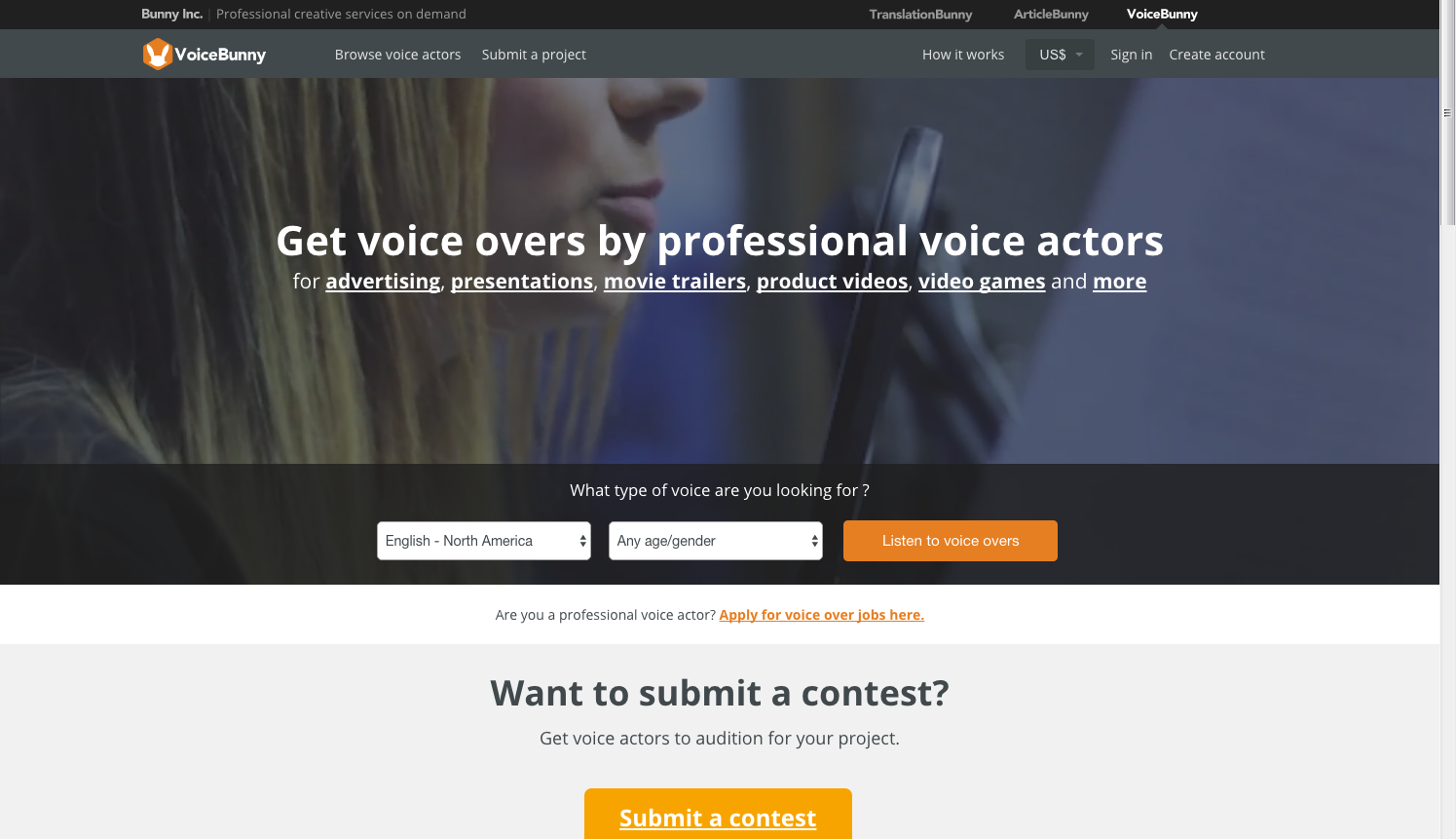 Voicebunny.com is like Voices.com but features lesser-known voice talent and is far less expensive. You can find different types of voices, both male and female, all types of accents and dialects, much like Voices.com but the quality is not as high as what you find on Voices. You may find someone to do your voiceover if you look long enough. With over 28,000 files to choose from, the odds are in your favor.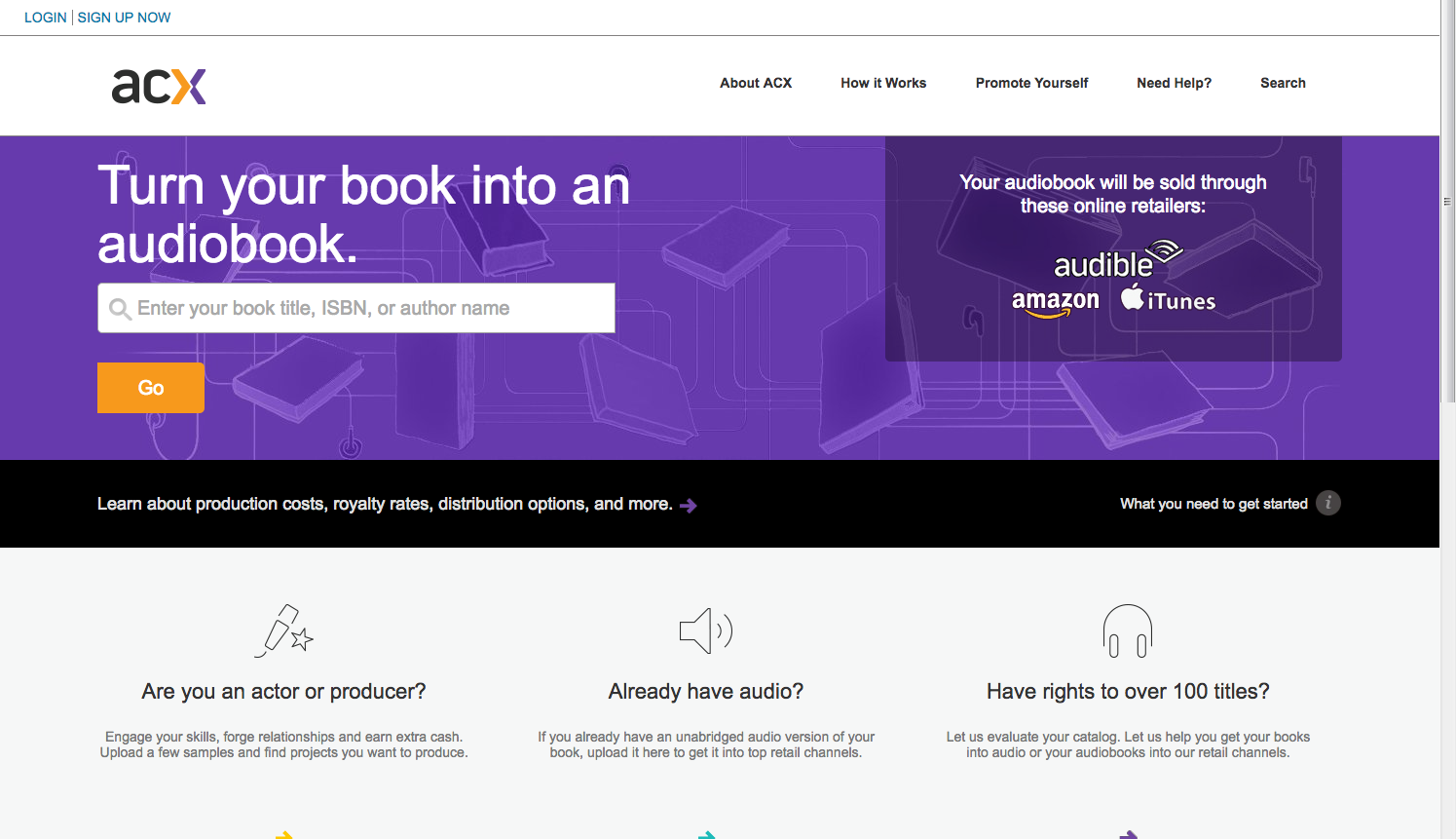 9. Acx.com
ACX.com is Amazon's voiceover company that focuses on producing audiobooks for Audible.com, Amazon's world-popular audiobook online platform and audio store. Audible.com is the main audiobook platform today that thousands of authors are getting on today, in an effort to promote their ideas and their brand. The only problem with ACX is that they are specific to books that are published on Amazon Kindle. So, if you do not have an eBook on Amazon Kindle, or a newly-created audiobook, it will not qualify for inclusion on Audible. The goal of ACX is to include the final product on Audible.com, Amazon.com, and iTunes.com so it would not be the best solution for simple broadcasts, podcasts, or commercial copy and you cannot download the finished file to external devices. They work with mobile devices using the Android, or iOS system, only and they are only playable from the devices or a desktop.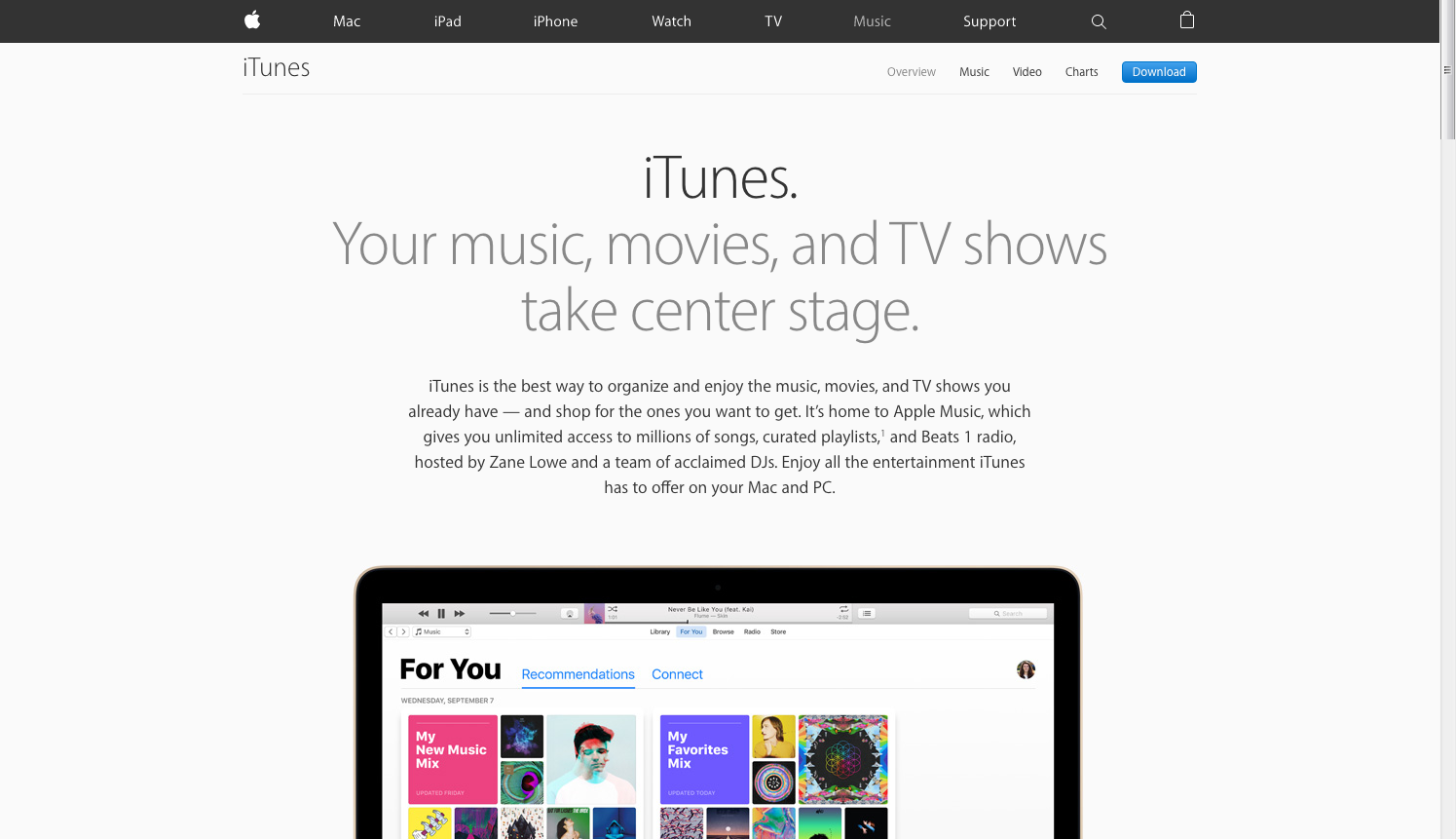 10. iTunes.com
iTunes.com, Apple's online music store is another place you can purchase audio files. But, like Amazon and others, you will have to make sure the files are royalty-free and that you are purchasing a commercial license to legally use them in your projects.
Custom Audio and Video Solutions
As you can see, there are plenty of ways to download, listen to, and get top-quality voice and music files and voice talent to add to your audio and video creations.
However, you have to worry about numerous legal issues and copyright laws to make sure you don't step on the rights of others. Also, not all of these platforms are inducive to creating the types of audio files or productions that you need for your projects.

The best solution is to call on the professionals at AnimatedVideo.com.
Why? Because we focus on delivering customizable audio files for your specific media projects. We also take care of all of the legalities so you don't have to.
Call us to learn more about what we do.
We make the process of audio and video as simple as pie.