Last Updated on April 13, 2022
Twitter is one of the best ways to find and connect with experts around the world on anything. With over 300 million users on Twitter, it's always a tough call on who posts the most accurate or updated information, but it's still a great resource for connecting and following others in your niche.In today's post, we wanted to share some of the top podcast audio editors that you should be following on Twitter.  If you are already editing your own podcasts, also take a look at our list of recommended audio editing software.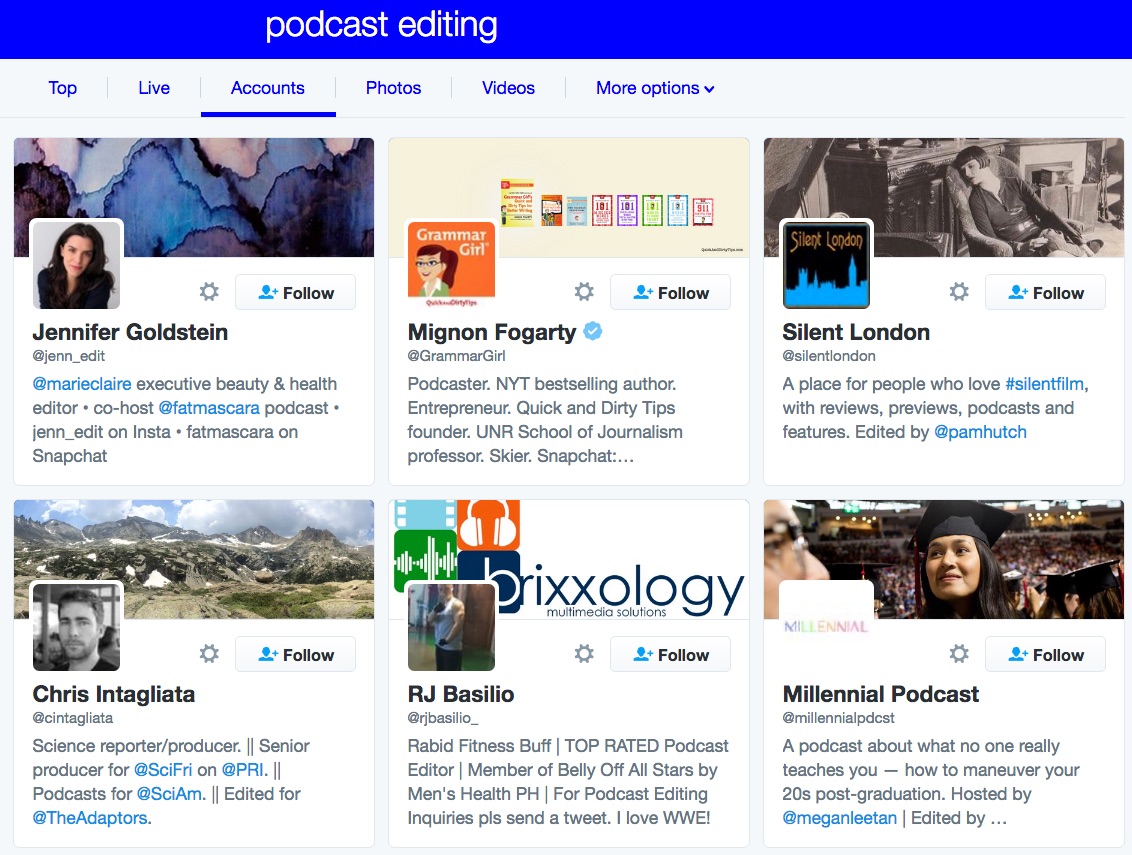 Top Audio and Podcast Editors to Follow on Twitter
1. ComeBackShane – Come Back Shane is a professional audio and video editor. His current position is the chief editor at the Disney channel. He often shares posts and ideas about audio editing on his Twitter account, so you are likely to find some great tidbits of information there.
2. Music Radio Creative – This podcast and audio expert works with radio stations, independent podcasters, and DJ's to improve the quality of their online "broadcasts" and gain more followers.
3. AudioXpress – AudioXpress is a professional audio editing business that offers great tips on editing on their Twitter account. They also feature an online publication that addresses important issues in the podcasting and audio editing industry.
4. Julia Furlan – Julia Furlan is a self-proclaimed audio editing fanatic that lives in Brazil. While not a professional audio editor that owns a business, she seems to embrace all things that deal with audio and she has over 3,000 followers who seem to enjoy her posts.
5. Digital Production BuZZ – The DP Buzz is considered one of the best professional shows to follow in the podcasting world. They also feature a great Twitter feed that has over 3,000 followers. They host a podcast that focuses on the fine art of digital production, including both audio and video.
6. BuzzFeed Audio – Buzz Feed Audio is one of the most popular online podcasting sources. They run their podcasts, keep ahead of the current podcasting trends, and actively connect with other podcasting feeds. You can add them to follow up with what's going on in the world of podcasting or to connect and network with a host of other podcast editors and fanatics. BuzzFeed is known for covering hot topics in national news as well.
7. Zoe Yu – Zoe Yu is a professional audio and podcasting editor that founded a podcasting company in China. She has her Twitter account set up more like a Question and Answer forum and often answers questions on how to edit or post podcasts. In a recent post, she was telling a viewer how she felt long introductions take away from the quality of a podcast. She is a self-proclaimed expert in editing podcasts for broadcast, and you may be able to get some of your technical questions on podcasting answered on her Twitter page.
8. Adrian Ruiz – If you want a few laughs, as well as a few off-the-wall insights on how to manipulate sound, try this Twitter feed. He seems just to be a guy having fun with Lego characters and audio but claims he has a handle on how to efficiently edit audio and video. So you may pick up some tips here and there.
9. Roxanne Escobales – Roxanne Escobales works with charities and non-profit agencies and is a professional audio editor. Much of her content does not appear to be focused on the process of audio editing, but she apparently uses her audio editing skills to create great podcasts and audio programs about the causes she holds so dear. She is credited on her website as a journalist, producer, and media consultant.
10. B. Touch – B. Touch is an animator, video editor, audio editor, writer, multimedia developer, wannabe bodybuilder, the wealth of film/tv/music knowledge, and the host of the SSN Podcast, according to his Twitter page. Unlike some others we found in our search for audio editors and podcast experts, B. Touch's posts all seem to be somewhat related to the podcasting theme and the quality of the feed.
11. Gadget Radar – Gadget Radar is an "award-winning" audio editor with 25 years of experience in professional audio editing work. They claim their experience has mostly been in radio and podcasting, but they have also done some audio work for video. They show video clips on their feed a lot, and they feature posts about other podcasts and tell their opinion of the quality.
12. Dan Pugsley – Dan Pugsley is a freelance sound designer, composer, and audio editor based in Somerset House in the UK. He features film shorts that illustrate the importance of high-quality audio in your audio and video productions, but I'm not sure he found any that pass the test.
13. Donk – Donk is a guy who claims to be a DJ and audio editor that lives in California. You can find his work on Direct Music Service, but we didn't get that far.
14. JP Davidson – JP Davidson is a radio freelancer, podcast producer, and audio editor. He lives in Ontario, Canada and posts some video feeds on his Twitter account that focuses on audio quality. At least with JP's site, you know the topic is going to be focused on audio most of the time. But it's sometimes difficult to see what his point is. He posts a lot of content on GreenPeace, so I assume it's cause he supports, but I couldn't find anywhere on his Twitter account that addressed this.
15. Charles Gammill – Charles Gammill is a podcast producer, audio editor, and cat wrangler. We're not sure what cat wrangling has to do with podcasting, but he added it as a credit so we thought we should too! Charles posted on April 8 that he was "grateful for my role as an audio editor, because of this sentiment," and posted a quote from Ernest Hemingway about how people don't listen well enough. Apparently, it was not only a quote within a quote, but a retweet as well.
16. Hens Zemmerman – Hens calls himself a "freelance audio editor and mixer, music production and special effects expert," and has as his logo, a section of a photo of a 1970s cassette tape. He seems to be an active producer and audio editor so you may pick up a few tips from him. He was posting about some of the work he was doing for local clients when we checked out his site. He only has 873 followers but seems not to let this discourage him from doing his thing with frequent posts.
17. Chris Gillette – Chris Gillette states that he's a freelance TV and film production technician, audio editor, and proud parent. He enjoys trying different techniques with audio and sharing it with his followers, all 427 of them.
18. Kerri Smith– Kerri focuses on editing nature sounds for her podcasts, and she had 3,321 followers when we checked out her site. She seems to have her act together more than many of the ones we looked at for podcast editing. At least her focus is almost solely on the act of podcasting, and she publishes regular podcasts via her Twitter site.
19. Chris Enns – Chris is a producer for hire. That's all we know.
20. Mark Medina – A video editor and podcaster. His tweets are often about Apple products but perhaps you can learn some tips from him now and then.

Looking for Professional Podcast Editing Services?
Well, we didn't mean to take on a sarcastic air but at times, it was utterly unavoidable. Many of these are useful links to follow while others leave you wanting a professional podcast and professional audio editing software to do it all for you.
If you have had your fill of self-proclaimed experts who toot their own horn but have no clue how to record it, you might want to call on our expert team at AnimatedVideo.com.
We have decades of experience in audio editing, and we can help you with your podcasts, videos, and audio productions in a professional manner.
Contact us to learn more and you won't have to figure out which Twitter "experts" to keep and which to throw away.