Last Updated on April 13, 2022
At this time, when the concept of social distancing has achieved the medal of 'new normal,' the organizations have shifted to arranging for 'virtual conferences' and other such online events. With the unlock process, businesses have started normalizing their functions like before – alongside work from home; the newly added transformations are the Virtual Conferences & online meets. But many people are of the opinion (which is a fact) that the same old virtual face-to-face interactions in front of digital screens can quickly turn into boring events. The monotonous tones of these won't attract ever-busy professionals. So, what's the answer to this challenge? It is the inclusion of animated videos in the events.
Animated Videos: A Welcome Inclusion To Make The Message Clear
"We wanted to create a persona and tell a specific, exaggerated story, Animation allowed us to do this, and also deliver data points in an engaging way."
Stephanie Murrin, CEO, Artcraft Health, has recently made news for using animated video contents in her virtual conference. Her company produces "custom health education with a focus on facilitating real learning, not just delivering information."
In her opinion, she chooses animated video because her contents require an undivided concentration of the viewers so that the message is seamlessly delivered. And there is no better tool than animation to grasp the audience's focus in a jiffy!

Why Must You Choose Animation Video For Virtual Conferences?
While planning for a web conference, it is rare for anyone to think of animated videos as one of the virtual event ideas. Why? Because animation is mostly associated with cartoons or Disney-Ghibli movies. They cannot be associated with something serious like business events. All these assumptions are out & out untrue.
"The wide range of animation techniques available today can convey serious messages as well as more light-hearted entertainment. Adults are comfortable viewing animations that explain complex processes or help illustrate points that might be difficult to visualize alone."
The best examples can be given through this video below: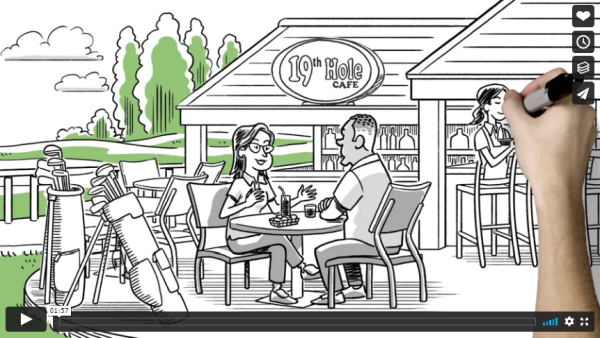 This interesting animation video is about the concept of digital lending. Sounds dry, right? But the moment you start exploring it scene by scene, word by word, you will find it more informative and intensely engaging in every frame. The boredom is cut through with the movement of the hand that draws every scene. This video provides important information to banks.
Animation video is flexible and cost-effective. The videos convey hidden messages that fit the best with the intent of the target audience. Moreover, as the rising trend of live-action seems to be complicated to be shot in this given scenario of social distancing, animated videos can prove to be the most accessible asset for a company to reach the audience's minds.
The takeaway of this point:
Highlights the points that are textually hard to visualize
Makes dry and mundane topics more interesting
Engages audiences in just a matter of moments
Adds variety to the content of the virtual event
Here Are 4 Ways To Make Your Virtual Conferences A Peppy Success
Managing an animation project might feel to be overwhelming for the ones who are maiden in this field. But believe it or not, it is no different than any other medium of communication or marketing efforts.
i. Keep Your Animation Content Aligned With Your Brand Offering
Consider your virtual conference with animated content, just like any other online event of a business. The animation content must match the tone as well as the style of the brand. The viewer must see both brand and the video as the same. The virtual conference provides the opportunity to deliver the brand message to the deeply rooted audience engaged with the animation. They must not only remember what is being said in the video but also who the video is representing on screen.
ii. Planning Is Important And Must Be Done Much Before The D-Day
Creating an animation video might just be a matter of seconds, but its planning, that too for a formal event requires prolonged planning. Ideally, one should start with the process at least a month beforehand. Start by writing a script, reviewing the content and aligning it with the event's purpose and then setting it off for the animating process.
iii. Segmentize Video Into Interesting 'CHAPTERS'
Anything played at a stretch can bring down the engagement level after a certain time. So, if your video is long, start dividing it into small chapters to keep the audience hooked on to the screen. "By breaking up into small chapters, the attention span of the audience is much better and they can absorb the information, they also look forward to the next chapter. Plus, these natural breaks give you time to talk about what you just watched and take questions from the online audience."
Animation videos can bring structure to your video conferences as well. In case of physical meets, people are required to move from one room to another, thus creating natural breaks in the process. But in case of a virtual meet, the attendees will be sitting on the same chair for hours, so you can understand how it important to use signal shifts, break frames, notifying topic shifts for retaining focus.
iv. Use Powerful Logos And Taglines To Make It Engaging & Interesting
Fabulous taglines and logos make your videos intensely engaging alongside giving your brand the required visibility. Choose the colors for animation that are subtle and related to the brand. Match the tone of your video to the subject but also make it humorous, reliable and authoritative.
Do You Know? You Can Repurpose Animated Videos From Your Conferences!
"The beauty of animation is you can always go back in and edit for another purpose, or use the existing asset as-is for any number of tactics."
The animated video that you have made for your conference will be a permanent asset to your business. Your virtual conference may hit the end, but your video does not have to. Once the conference ends, you can repurpose them for other meets and purposes for well. A blind repurposing, although, might backfire in this case. So in case, you decide to present the same for other meet, just change the script here and there, if needed the voiceover and then align them with the frames. You can also cut down irrelevant sections in editing for the same.
What's more? Share the video across your business's social media channels and get the users hooked to your brand.
Animated Video Has Got You Covered!
Animated Video is a dedicated professional agency that specializes in meeting the client requisites in the most creative ways. Constantly churning and delivering excellence for every project is a way for our creative thinkers and artists to get the job done until we see a smile on the clients' faces. Do you need an animated video for your virtual meet as well? Then reach us at any time to discuss your needs and get a quote suited as per your idea. Explore our enriching portfolio today and watch some amazing creations from our kitty. We are also available on various social media channels as well.