Last Updated on April 13, 2022
How can I grow my YouTube channel?
Why's my YouTube not growing as fast as others?
I'm posting good content but I see other mediocre content perform better than mine!!
Is it good to upload videos to my channel daily?
How long does it take to get 1000 subscribers on YouTube?
Or should I just buy my first 1000 subscribers and hopefully grow from there?
Sounds like questions you ask yourself?
Well, growing a new YouTube channel can be so frustrating especially now that there are billions of videos posted daily. But it's even better knowing that about 5 billion videos are watched on YouTube every single day.
This basically gives us the hope that we can as well grow our YouTube channels to the high thousands or even millions. Now that's completely true with the right strategies and tools (which we're going to be sharing with you in this pretty long guide).
With YouTube's massive growth, it's even estimated that by 2025, half of the viewers unders 32 will not subscribe to a Pay-Tv service or software.
That's huge for this video streaming platform!
In this guide, we're going to show you how to grow your YouTube channel the right way, quickly. We'll be revealing strategies that have helped us grow our client's channel to hundreds of thousands by producing effective content and following the exact strategy we'll be sharing with you here.
Ready?
Let's get started:
13 Actionable Ways to Grow a YouTube Channel Besides "Optimize My SEO"?
First off, we got this question from Quora.com but we'll not only reveal strategies to grow your YouTube channel besides SEO. We'll also reveal our best YouTube SEO practices right in this guide.
This way, you'll have a complete, an up to date blueprint to grow a new (or struggling) YouTube channel.
So let's get started: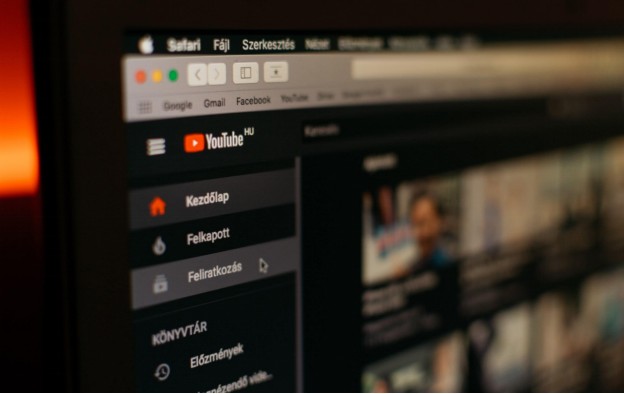 1. Be An Active Commenter
Did you know commenting could be as powerful as having a celebrity share your YouTube link?
I think not, right?
Here's what we mean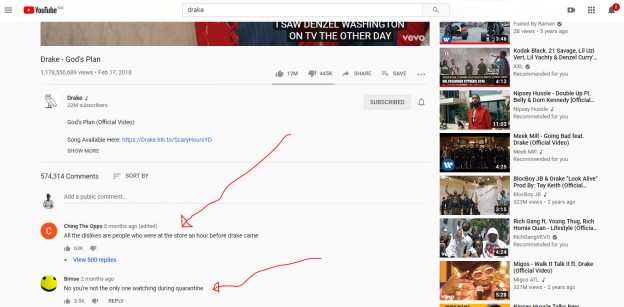 Have you noticed the new comments section?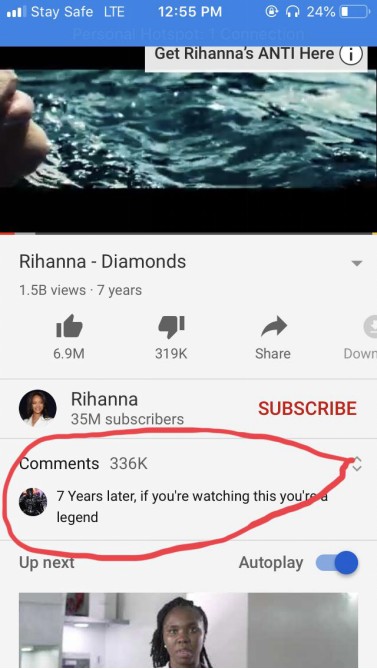 I bet you have.
Well, it simply highlights or pins the best comment on any YouTube video. Think of it as free exposure to thousands of viewers on a YouTube video that's related to your channel.
Since the new YouTube look, we've paid close attention to comments and drop comments on videos or channels with people that might be interested in our content.
And here's the part I love about dropping comments.
You don't need to get a "best comment" before you get free exposure. Simply dropping engaging comments can lead to hundreds or even thousands of likes from people around the globe.
Let me ask you; when was the last time you scrolled through and read the comments on a YouTube video while watching it?
Probably not long ago right?
Most viewers prefer to read what people (fans, audience, customers etc.) have to say in the comments while playing and listening to videos.
Thus, here's a strategy:
Step 1: Make a list of 10 to 15 YouTube consistent channels with hundreds of thousands of subscribers (that are your target audience too).
Step 2: Subscribe to their channels and turn on post notifications.
Step 3: Actively drop engaging comments that get viewer-attention.
Think outside the box and make people relate so well to it. That's what stands out!
2. Ensure You Have a Branded YouTube Profile
Branding is crucial in YouTube marketing. As a matter of fact, YouTube's mission is to "give everyone a voice and to show them the world".
YouTube gives you the opportunity to showcase your personality, passions, skills, ideas and more through your videos.
Branding is simply the tone, feel and characteristics that sets your channel apart from the other channels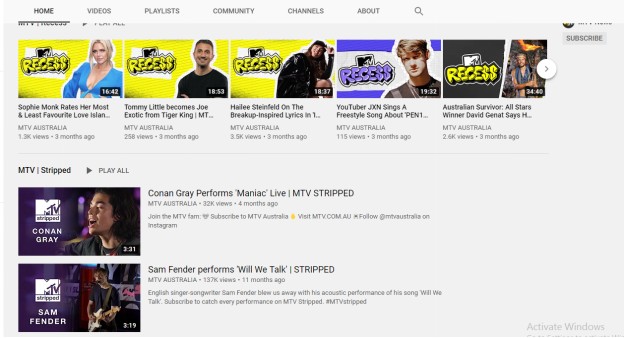 If you are like me, you kind of tend to remember a channel just because of something that's consistent in their videos.
Your branding should be simple, professional, clear and representative.
Fortunately, YouTube features like the 'Customize your Channel' provides us with all the necessary tools we need to ensure a branded and recall-able YouTube channel.
YouTube even advises, you "described your brand in five words".

You can begin from maintaining consistent social media images, patterns and colors.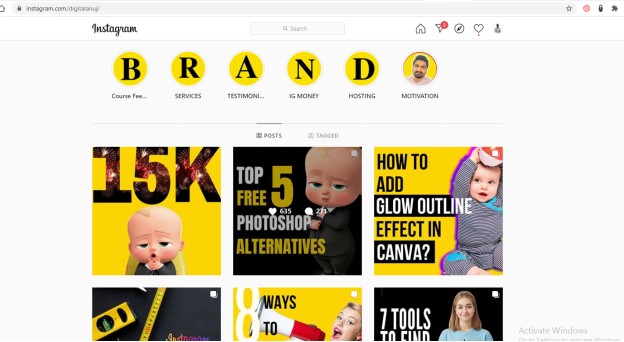 3. Research 3 hashtag keywords for every YouTube video you upload
Hashtags are really starting to take off on WhatsApp. It's even grown more during the Convid-19 pandemic.
Have you noticed YouTube displays 2-3 hashtags to any viewer watching any of your videos on a mobile device.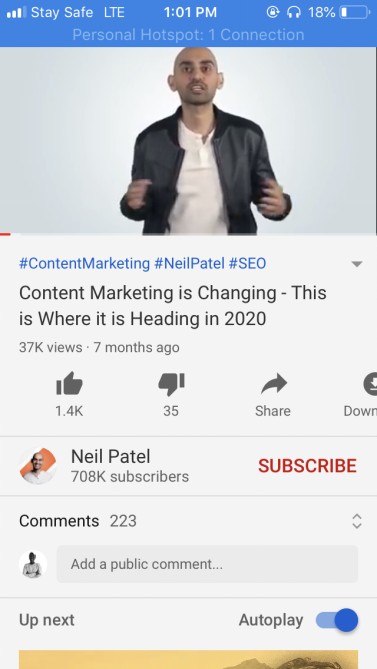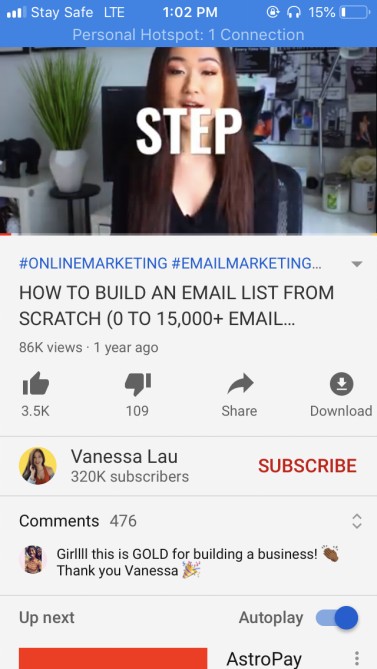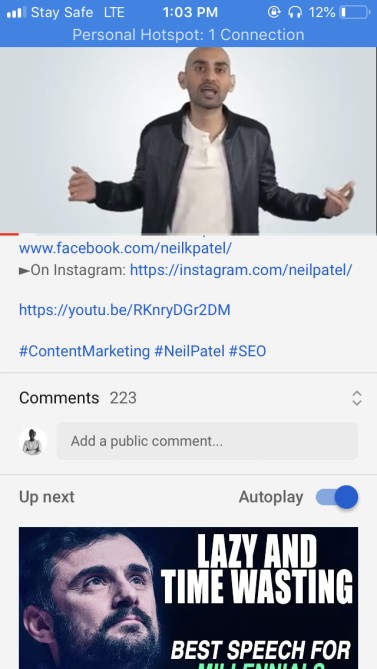 If you add 6 hashtags in your video description, YouTube will pick the first 3 and display it to your viewers (and certainly used as a strong search criteria.
For example, if you publish a video on e-commerce marketing and add these hashtags:
#ecomm
#cars
#shopify
#entrepreneurship
#marketing
YouTube's bot will pick the first 3 which are; #ecomm, #cars and #shopify to display. Therefore you might want to make sure the first 3 hashtags you insert in your videos are the more relatable to each video.
There are several ways you can get hashtags that'll help your videos rank. You can use tools, applications, websites.
4. Use Google to find recommended headlines & titles.
This is a simple yet effective strategy to get the best headlines for your YouTube video.
As you may know, getting your headlines right is key in marketing. This is no different for YouTube videos that you publish.
And since headlines can be a bit tricky (which is why marketers even start using mismatched headlines for clickbait), you need to pay attention to it and we've found Google suggestions to be really helpful in giving suggestions people often search for online.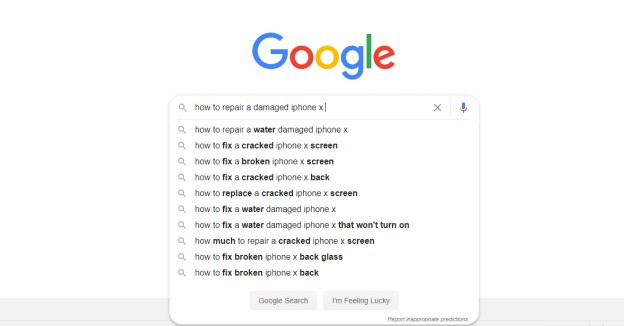 You can simply plug your topic or headline and see which "term" of key phrase is searched more often than others. This way, you'd be targeting specific keywords (or rather search phrases) that people exactly type in their search bar.
Why's this so important?
A while back, I was putting together a guide on blogging and content marketing mistakes but we had a little challenge whether to go for the phrase "blogging mistakes" or "content marketing mistakes".
But with a few Google searches, we found that people typed in more of "Blogging mistakes" than the latter. But on the other hand, "Content marketing mistakes" would be targeting the specific audience we wanted, rather than the popular "blogging mistakes".
5. Thumbnails are still key
I bet you already know how important thumbnails are not just on YouTube but all other social media platforms today.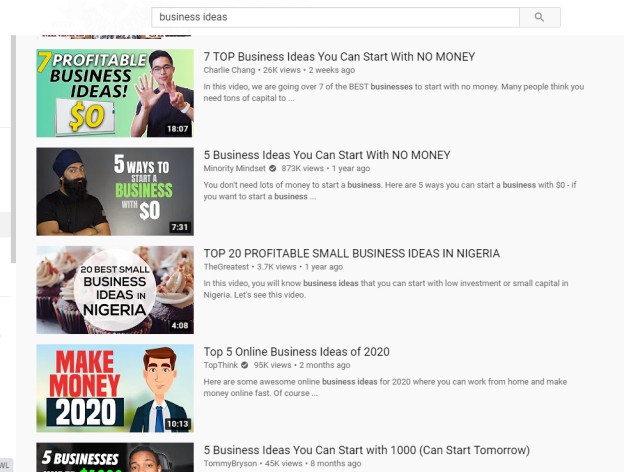 Your YouTube thumbnail must pass the message your video wants to send to viewers. And if you're like me, you pretty much always look at the thumbnail of any video before even clicking to watch.
I mean, which videos amongst the following are you most likely to click and watch?
Even though the term we searched for was "Best SEO Secrets", I bet you'd most likely click the third video.
Is that correct?
Well, that's because the thumbnail alone is catching and kind of gives you a glimpse as to what you'll learn in the video (300,000 pageviews!).
We use Canva.com and a few mobile applications to create beautiful images for our thumbnails.
How to change your YouTube video thumbnail on mobile?
Step #1: Download the YouTube channel app (called YouTube Studio) which is available on both iOS and Android stores
Step #2: Log in to your YouTube channel and select the video you wish to change its thumbnail.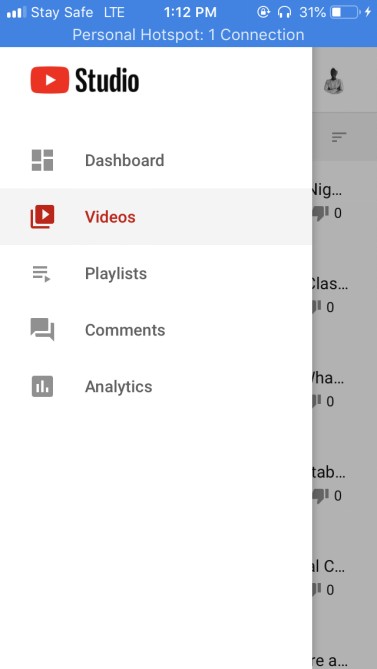 Step #3: Click on the edit thumbnail then you can upload any image from your gallery.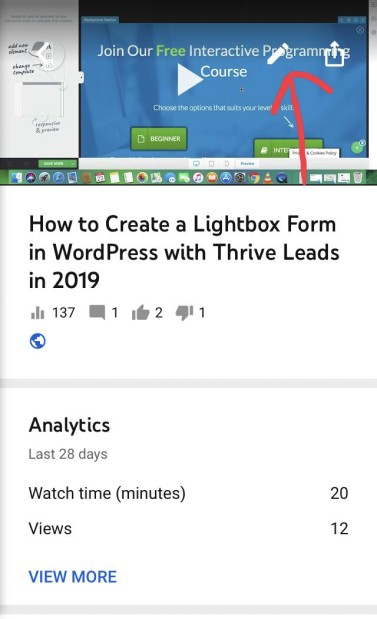 6. Target both tapped & untapped keywords in your description
So this might sound a little different from what you've seen on the internet. Most times, experts say you should go for (or target) untapped keywords or untapped markets.
But here's the thing;
We don't always advise you to focus on untapped keywords.
And here's why…
If you check any keyword research tool, like Google keyword planner, it's going to be obvious that the untapped keywords or phrases are the ones with the lowest search frequencies. They're not always having lots of searches monthly.
On the other hands, the "tapped" keywords have 1000s or even millions of searches monthly.
For example, how well would your video content perform if you rank for an untapped keyword, with 100-200 monthly searches?
Not so well right?
Well, here we advise marketers and businesses to try to find a balance between tapped and untapped keywords.
Yes, they're more difficult to rank for; but with the proper promotions, you would definitely climb up quickly.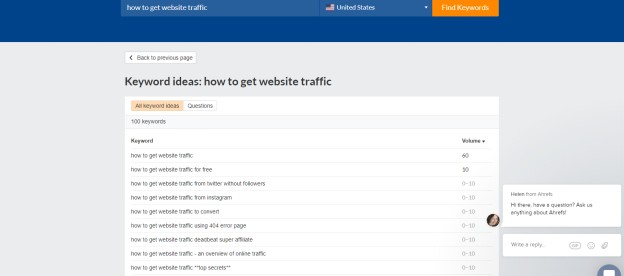 7. Make it SUPER EASY for your readers to subscribe
Here's how to create a single YouTube subscribe link for your channel:
This way, you can share your links and make it a step easier for users to subscribe to your channel.
8. Embed your Videos between your Blog Posts (or on your websites)
Blog posts are really huge when it comes to traffic. For instance, with a single blog post, you can attract tens of thousands of visitors monthly.
As a matter of fact, this very guide I wrote for a client a while back has attracted about 20,000 visitors. Most of which are from Google!
Thus here's the thing:
How about embedding your YouTube videos in between these articles?
That would not only increase your views and subscribers, but can also boost your website's SEO. It's no news that embedding video content on your website helps with your search engine rankings.
In fact, including a video on your web-page drives a 157% increase in organic traffic from SERPs – According to Brightcove.
This is even more solid knowing that 93% of all online experiences start with a search query.
Here's the math…
10,000 people read your content to read…
Half see your video and watch.
Dozens would subscribe if you have a great, engaging video.
Get the idea?
9. Always move your viewers to your next video
At the end of your videos, we all agree that most times YouTubers just ask for likes, comments and subscribers. That's effective but to take it to a whole new level, you need to "sell" them on your next YouTube video.
It's even better if your business creates sort of a series of specific YouTube videos.
Rather than just asking for engagements (which is in no doubt a great strategy), you should also sell viewers on your next video. In fact, YouTube tracks how long a user stays on the platform after watching your video.
Here's what I mean…
If a user lands on your YouTube video and after watching, the user closes the YouTube tab. This will negatively affect your video performance because it shows YouTube that your videos may not be engaging.
On the other hand, if users click on another video after watching yours, you get a boost in your SERPs.
This strategy is really effective and I could remember a particular YouTuber who got me to watch about 5 of his videos one after the other.
It's that effective!
Think about it…
How easy is it to convince a viewer who just watched a video about "10 email marketing mistakes to avoid" to go ahead and watch your previous video, "How I made $1,000 through email marketing"?
Pretty easy right?
If your channel covers more than one specific market; say digital marketing (includes email, ads, social, SEO etc).
Your videos about email marketing should "sell" the next video on email marketing. And vice versa!
This is even better with the YouTube playlist feature. Create playlists to keep people on YouTube.
Here's how to:
10. Have an Active Instagram Account – it really helps with YouTube fan base growth
The overall aim of having a YouTube channel isn't just to get subscribers right?
It's either to promote a business, products, services or brand. Is that correct?
Yes?
So having an Instagram account really helps. Within the years, we've noticed that for most YouTubers, Instagram is their major community platform where they engage with their fans.
And here's how they do that:
At the end of every video, they invite viewers to follow them on Instagram and drop the links in the description.
It's so effective, even celebrities harness this strategy!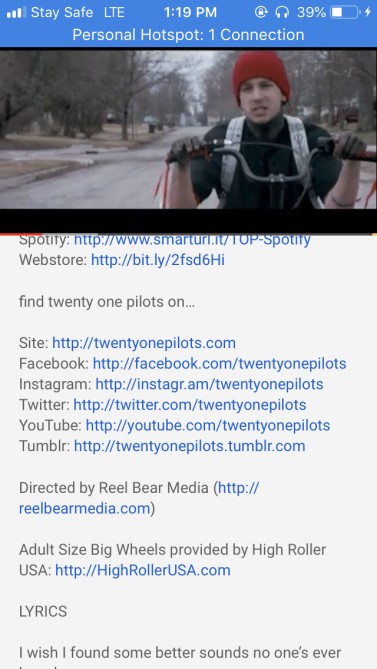 Now this is crucial because most of your viewers might not subscribe to your channel the first time they land on your channel (or video). And when you have a solid fan base on Instagram, you kind of have a platform of people always ready to watch your videos.
Whenever you put out a new video, you have an audience that would most likely be interested in your new video. You can do this by sharing short clips and sending your Instagram followers back to your YouTube channel.
And the call to action (CTA) would be to swipe up or click the link on your bio to watch the full video!
11. Offer giveaways, shoutouts and pin your most important comments
One of my good friends, Braydon Ross, grew to 5,000 subscribers in less than 2 months using giveaways!
That's huge and I bet I mustn't highlight how important and powerful giveaways are. In recent years, more and more businesses are doing giveaways and free shoutouts to viewers, subscribers; as they've realized how powerful these strategies are.
We've especially seen how most YouTubers and Vloggers do that to grow their channels.
Seen how TheAceFamily does giveaways and FREE shoutouts?
It's so effective that people literally dream of getting just a shoutout from this channel.
Your business or brand could also do the same to grow to your first 1000 YouTube subscribers.
I recall a friend of mine who started a new YouTube channel and decided to use giveaways as his major growth strategy and within a month, his YouTube channel went viral.
How'd he do that?
He simply did a monthly giveaway (IPhone X) to the most active subscriber who watches, likes and comments on his videos.
Hundreds of people rushed into this giveaway which eventually grew the channel quickly. I mean, who doesn't love Freebies!?
12. Build backlinks to your videos
Backlinks are so important that almost every online business is after them. They're one of the major criteria that Google uses to rank content on search results.
When it comes to ranking your content, Googlebot uses backlinks as a key result determinant.
That's no different for your YouTube videos. They also need backlinks as well.
Here's why we love this strategy so well…
By building backlinks to your videos, you won't only rank your videos on YouTube search, but also on Google.
Building backlinks can be overwhelming but when done right, it can be the pillar to your online business. So whenever you publish new videos, you want to reach out, write guest blogs or even link back to your videos from your own website.
Here's a simple hack we use:
Step #1: After creating and publishing a great YouTube video, we get it ready for backlinks.
Step #2: We search Pinterest and Google to find blog posts that are related to our videos and we're sure our videos will add value to anyone reading.
Step #3: We then craft reach outs asking them to check our new video and embed it in their blog post if it's worth it.
Works really well especially as it doesn't take anything to add people's videos to your website. As a matter of fact, you'd be getting an SEO advantage just by doing that!
13.Target keywords that already have a Video Carousel in the SERPs.
Have you ever noticed videos ranking first on some of your searches on Google?
I bet you have!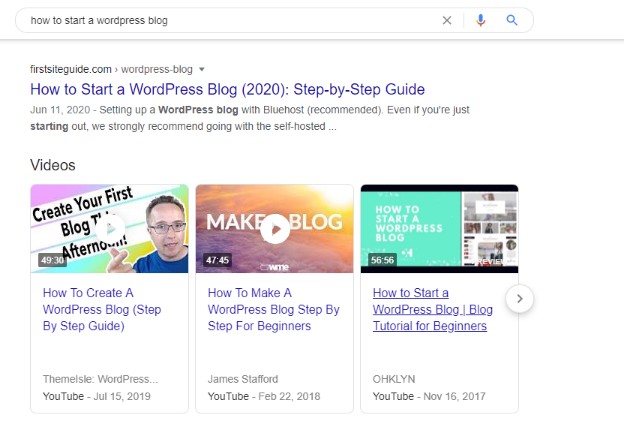 Here's our strategy(learned from Brian Dean, SEO expert from backlinko.com)…
When doing your keywords research, go for keywords or phrases that already seem to have videos ranking up on Google.
This is quite easier to rank for and appear on Google's number #1 for your target keyword as a number of videos have already proven to rank well.
This would give you a huge boost to your YouTube channel as well.
What's next?
How have you tried to grow your YouTube channel and how have the results been so far?
Not so good?
Let us know what strategies you've tried and what you aim to try in the comments!