Last Updated on January 10, 2023
Snapchat has taken the world by storm. With its unique "click and send" technology that is built into the Snapchat app, users all over the world enjoy seeing moments "in the now" that they want to send to friends and sending them by the thousands. Let's check out some of the interesting Snapchat stats in this post.
For video marketers, it's all about having quality video and pictures and a place or a platform to share them. Without a platform where people gather to see your photos and videos, it's like an actor without a stage. The various social media platforms offer a unique opportunity to allow you to share your instant photos and video content and then quickly delete them. Unlike Facebook and Twitter which offer a storage capability, Snapchat is an app that lives "in the now" and not in the future. So people only take images of those things they want to share and then delete.
This probably makes the platform much more user-friendly and encourages more people to use the platform to send any random moment to others that they want to share. Since this is a case of quantity over quality, users don't worry about quality as much and feel free to share many photos that they wouldn't ordinarily share. Snapchat stickers can also add values.
There are 150 million daily active users.
The mobile smart phone is used to communicate with others in so many different ways these days. Snapchat provides a way to allow social media to use photos as a way to communicate and then allow the images to be deleted shortly after that. This captures any moment you want to capture to share with others but does not discriminate to show only the best photos or images.
With so many people on Snapchat every day, the video marketing expert should be aware of the huge audience that is available on this new social media platform so that they can include it in their marketing strategy for their websites.
To learn more about snapchat advertising trend for business, be sure to check out this Snapchat infographic and the snapchat marketing statistics below
60% of Snapchat users contribute content
One statistic reported by Business Insider Magazine is that 60% of users contribute content. This is more than half of all users and shows the high degree of interactivity among many Snapchat users.
For video marketers, should use snapchat promotions strategies to amplify a brand image where you want to get maximum exposure amidst all the snapchat users by country. While the photos are not kept forever, a well-taken photo of your business at the right time showing the current activity or other aspects of the business can help.
Don't forget that Snapchat also allows video. This means that video marketers who are trying to promote a brand for a company should use this format often to get in on the capabilities.
There are 9,000 snaps per second.
Another interesting statistic is that there are 9,000 snaps per second on Snapchat. This represents a lot of opportunities that you can take advantage of when managing a campaign.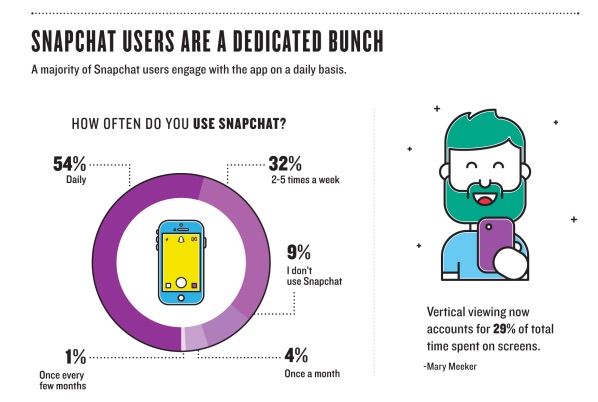 There are 10 billion daily video views.
How to use snapchat for digital marketing? Digital Trends reports that Snapchat has 10 billion daily video views. When you think about the amount of exposure that gives a brand if you have the content out there, that is quite mind-blowing!
Imagine the power if you had a great video that you wanted to share featuring your brand or your client's brand and putting that out in front of your target audience.
Now that's power!
45% of Snapchat users post stories once per week.
Snapchat allows the option of posting stories along with their videos and photos. This enables users to get creative and to edit and create a storyline with their content, rather than just post pictures and videos.
Video marketers could do the same by creating a sequence of short clips and tying them together in some logical order that would compel viewers to want to know more. Also, with the instant deletion function of Snapchat, you will attract more people to the platform and give marketers a chance to give users just enough to whet their appetite for more before it disappears.
This is a unique approach to advertising but one that might prove to be lucrative in the long run when promoting a brand online through video marketing.
8 billion views; 30 minutes per day
Recode reports that their statistics reveal that Snapchat users watch 8 billion videos per day (as of the February 2016 report). That rivals Facebook's latest stats regarding views for videos posted on their platform. They also reported that users spend around 30 minutes per day on Snapchat.

18% of all social media users use Snapchat
Another interesting report is the fact that 18% of all social media users use Snapchat. This is probably due in part to the rising popularity of taking videos and photos with a smartphone as the standard. In the past, people tended to carry a pocket camera with them along with their smartphone. But as the technology for digital photography has improved within the smart device technology, the need to carry external digital cameras has decreased.
For photos and video content that is shared on Snapchat, a smartphone is all that is needed. This less format approach to photography allows photography to be so simple that "even a child can do it" and increases the likelihood that people will use it.
22% of senior corporate ad executives plan to advertise on Snapchat
It was estimated in early 2016 in an eMarketer study that 22% of corporates planned to use some of their ad dollars to advertise on Snapchat. This is a huge percent when you think about the fact that Snapchat was only considered a fun app for kids to talk on in previous months.
Snapchat's daily video views have increased by 400%
Mediakix.com also reported that Snapchat's daily video views have increased by 400% over the past year (from 2-10 billion) on average. This is a huge increase in the attention being paid to this once elusive simple application.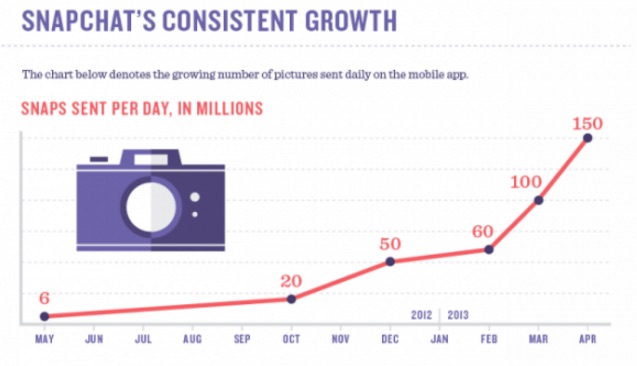 Snapchat ads are seen between 500,000 to 1 million times per day
Recode reported this statistic recently, and video marketers should keep this in mind when looking for great platforms to place and promote ads.
Summary of Snapchat Stats
These statistics show the rising popularity of Snapchat and certainly starts the wheels turning for the video marketing specialist or brand owner looking to optimize their online coverage. This especially applies to appealing to mobile customers, which should be high on the list of any video marketer today, whether you are strategizing for your brand or the brand of your clients.

Start with a great video
But before you can place your video or photos on one of the most successful social media platforms available today, you must first create a great video that you will want to share. Even if you use Snapchat where your content will disappear shortly after it is shared, you don't want your ten seconds of fame to be obliterated by something that will make customers run from your message.
Start with a great video created by the experts at animatedvideo.com. We have years of experience creating high-quality video, and we can create great animations that will make your content stand out on Snapchat.
While others are just snapping and posting, your content will be of higher quality, and this will allow you to incite interest in your brand in ways that your competition is not doing.
Visit us online at animatedvideo.com.