Last Updated on April 13, 2022
Did you know, why do you mostly prefer videos over plain texts? Because the human brain processes videos 60000X faster than plain text. Hence, videos have increasingly become the perfect solution in improving e-commerce conversion rates and creating brand awareness.
The average e-commerce conversion rate 2018, through desktop is 3.83%. This figure is a bit lower in mobile with 2.03%. If you own an eCommerce site and intend to boost your sales conversion, you must be trying your hands in every possible device. Leveraging the power of product video on your homepage happens to be an integral part of that strategy. Once you garner leads, channeling them to the sales funnel is what comes next.
With videos strategically placed on the homepage, inside services pages or on the product pages, customers automatically develop a sense of confidence upon you. And there starts the actual conversion! These are some of the e-commerce benchmarks to augment the lead conversion rate.
So why are videos so effective?
The average b2b lead conversion rate for a novice eCommerce site would be 1% to 2%. This is 8% to 9% for big eCommerce enterprises. With videos, this figure can increase 6X. If your eCommerce website homepage has a professionally created video about your services and the benefits, it establishes you as an industry expert.
Once you attain that stature, it becomes easy to goad your prospects towards purchase. Videos are that marketing force hard to ignore. Bland commercials and lousy sales pitch are no more trump cards of businesses. Smart entrepreneurs have understood that videos have come of age now and must be utilized wisely.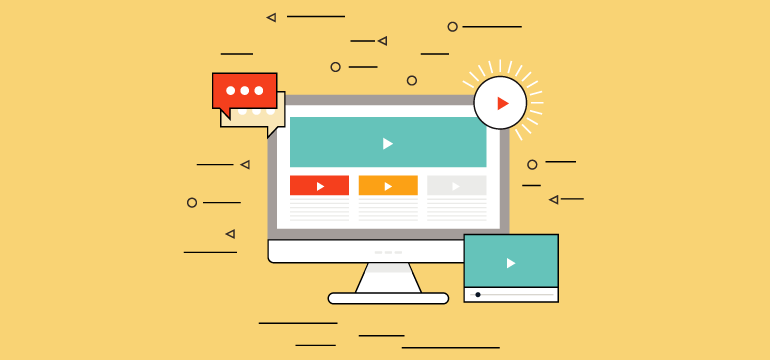 Shareability – Videos are shared 12X more than texts and links on Facebook. On YouTube, social actions are taken by 100 Million users every week. That said, videos have enough power to make people click on them and share them.
Google Page Rank – Videos generate quality backlinks and increase the time people spend on your website. That helps in boosting your SEO. Google is always focused on helping searchers find the best answer to their questions. And if your video has that answer, then your eCommerce site will see itself high on the SERPs.
More Clear and Concise Communication – Did you know? A 30-second video is equivalent to half a page text. So no matter how complex your product or service is, you can swiftly communicate and explain it through a well-created video. The more you come up with clear communication, the higher your e-commerce conversion rates amplify.
It takes less effort to watch videos – Videos work great where understanding things are involved. A survey by WeCapture says, 59% of corporate executives prefer videos over texts while grasping data.
You can instill faith and trust in your prospects – Your eCommerce site does have a myriad of people working behind the curtain. In your "Meet The Team" page, if there's a video that shows all of the faces who are continually working on the site, that not only boosts your prospects' confidence. But also gives them an idea of your work culture and values.
You can address their concerns – When prospects see a brand or a product, there come several questions in their minds that need to be clarified. Understanding the product through a video gives answers to those questions and transform your conversion rate.
User-Generated Video Content – Seeing real people benefited by your product/service has its reward. Including such UGC in the key stages of the sales funnel can reduce drop-offs to a great extent and transform your conversion rate. Because user-generated contents contain more weight than something coming from you.
Create and Leverage Instructional Videos – This is another step in boosting user-experience. Suppose your product is a Smart TV. Now if you create a video that clearly explains how to set up the device, that's a great relief for your users/customers. The more they are fed with instructions that make their lives easy, the lesser is the chance of them moving on to your competitors.
Also, it is likely they will intend to buy other accessories from your eCommerce site.
So, How would You Use Videos for your eCommerce website?

Put together your landing page with a video
Your prospects need to connect with you. And landing pages with relevant images and videos connect with them faster. Using videos on landing pages can take your conversion rate to the higher side just because they can evoke the desired response among your traffic.
Know your previous year's sales conversion rate statistics and find out where you can leverage video contents.
On your Homepage
Just as mentioned earlier, homepages that have videos have a higher rate of lead conversion. Why? Because of the fact (true fact rather) that videos build trust with the audience. Your homepage is the first thing that your traffic would see. And if there's a thumbnail of a happy smiling face, people are likely to click on it.
A 60 seconds video delivers your core message as well as why you stand out from the others in the industry. There you go! Give a short description of your brand and how you can add value to your customers, and have been doing it since, say, 1990? 🙂
Send Personalized Videos to your Prospects
If you get no luck in reviving the dead leads, have already tried cold emails and cold calls to death, try sending video voice mails to your leads. Not only these create a more personalized sales experience, but it makes your prospects feel that you genuinely care for them. They open up and discuss things more freely.
Thus it becomes easier for you to take them towards the end of the sales funnel.
On your Product Page
While making a purchase, 90% of buyers find it useful if there's a supporting video. And 64% of users opine that they are more likely to buy a product only after viewing a video. That said, your primary target would be to include engaging videos in your product pages.
When images are not enough, videos save the day by giving your prospects a real feeling. It doesn't really matter whether they watch the videos till the end or stop midway, but the very existence of product videos will amplify the conversions.
Include Videos that explains your benefits better
The best way to appear neutral and less 'salesy' is to just to showcase your benefits to your prospects. They will decide for themselves whether to tune you out or stick to you. So make sure you have videos that talk and explains about your benefits and how they can add value to your buyers.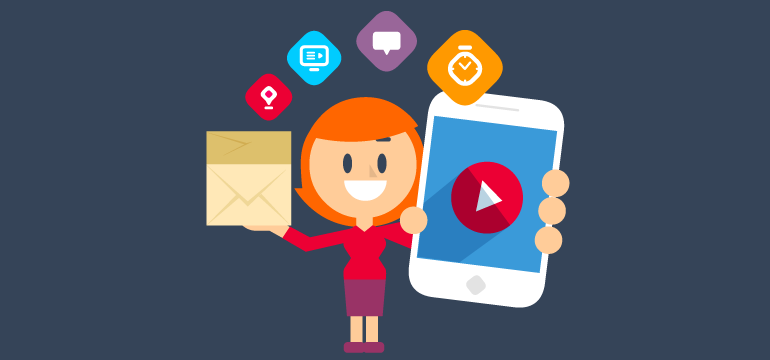 Testimonial Videos
There's something called 'Social Proof' that 90% of buyers rely upon while making a purchase decision. And smart business persons know that the most original sales message come from happy and satisfied customers. So when your prospective buyers get to see such satisfied customers benefited by your product, their trust quotient increases.
So ensure you include proper testimonial videos that reinforce credibility and trust.
Try Tutorial or How-To Videos
This type of videos is more apt for brands that sell products and not services. This is a straightforward way to showcase with step by step guidance, how one would use your product. Surely enough when their concerns and questions are addressed, they would be happy to try your product.
Post Videos on Social Media Profiles
Social media channels can be big-time lead catchers considering how powerful they are now. They are not only great tools to reach the masses, but also to convert the followers into paying customers. And your social media conversion rate will significantly rise as you upload more and more shareable videos.
Encourage Surveys through Videos
Customer feedback/reviews are the primal elements expected by all marketers. Conduct surveys and ask for feedback from your customers. You may appear in the videos yourself and ask for feedback on the areas you can further improve. Halfway, questions can come up onscreen that the audience has to answer to further watch the video.

Wrapping Things Up!
So all that said, video marketing happens to be the most lucrative yet cost-effective strategy to enhance conversion and create a sustainable brand image. Marketers and business development managers are under continuous pressure to come up with innovative ideas to generate more leads and conversions. Yet in a less pricey way. In this scenario, video contents have the highest ROI.
We offer professionally created Animated Explainer/Promotional videos for all kinds of business that encourage prospective buyers to make a purchase, bring repeat clients and boost your e-commerce conversion rates. If you are interested in how video contents can further help in raising your online conversions, feel free to get in touch.
And if you have anything else to add, please share your comment in the comment section below.