Last Updated on April 13, 2022
Mobile app videos have quickly changed the way brands market your products to different services. With mobile being all the buzz lately, static images and text content simply won't get the job done when trying to reach new audiences and get new app downloads. Now it's all about engagement and getting your audience to take action within just seconds. There is simply no better way to accomplish this, than through animated video.
Worldwide, at least 68 percent of all adults own smartphones — and more than 9 out of every ten smartphones sold worldwide runs either Android or iOS. With usage statistics such as these, it's no wonder that having a mobile app on the App Store and Google Play is virtually a required component of any company's promotional strategy.
There's a problem with mobile apps, though. If your company is only now getting around to releasing its first mobile app, you're a little late to the party. The App Store and Google Play already boast a combined total of more than 4 million apps. With so much software available, Google and Apple have both struggled to find ways to help users discover new content that interests them. In the United States, the average smartphone user isn't even looking for new content; most American smartphone owners don't download any new apps during an average month.
Smartphone users no longer regard apps with the same sense of novelty that they once did, and apps no longer sell themselves. Successful publishers such as Supercell have the ability to outspend their competition and use massive advertising campaigns to muscle their new releases to the top of the charts. If massive ad spending isn't an option for you, though, you need another way to make sure that people will notice your app. Video is an inexpensive and proven promotional method that'll capture the attention of mobile device users who aren't actively looking for new apps. Let's take a look at how videos can make your app launch a success.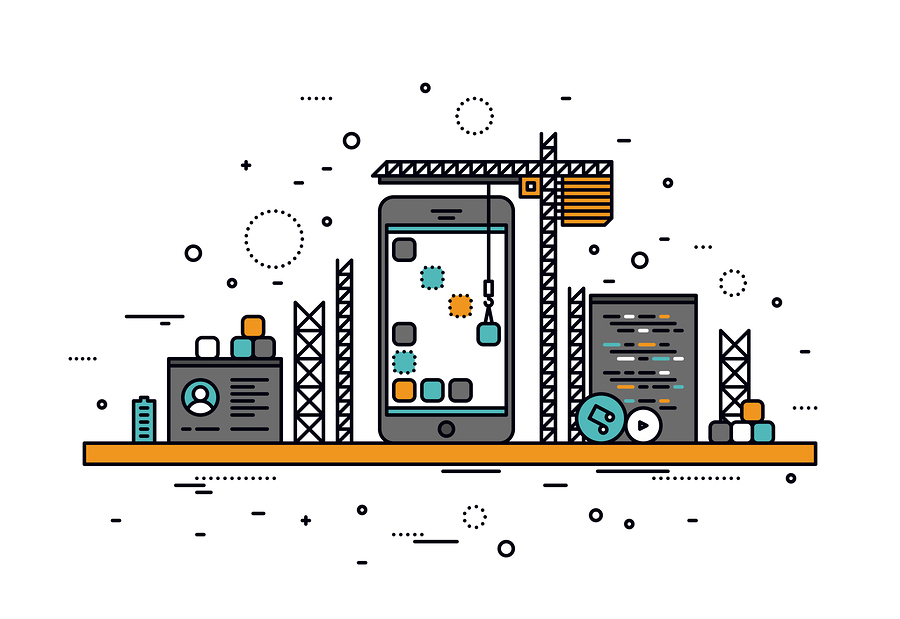 App Store Videos
Nothing sells an app quite as well as the ability to see it in motion. The App Store and Google Play both allow you to use a combination of screenshots and preview videos on app pages. In 2016, SplitMetrics analyzed 10 million App Store users to identify the factors that influence a user's decision to click the "Download" button after viewing an app's page. On average, a video increases download rates by 16 percent. However, you can improve download rates even further by testing different videos and tracking the results. In the survey, one app experienced a 110 percent increase in download rates after using a different preview video.
To see an example of how a video can help better explain and market your mobile application, check out the video below. This video was created by our design team at AnimatedVideo.com. To see more like this, be sure to view our video portfolio.
Exposure on Other Media
Increasing conversions among users who reach your app's download page is important, but conversion optimization will be of little benefit if users aren't reaching the download page to begin with. By using videos to promote your app, you can reach audiences who wouldn't normally see text ads. A game streaming website such as Twitch, for example, would be a perfect fit for advertising a game — after all, the people who watch Twitch streamers are always on the lookout for new games to play. Many video ad networks allow you to target mobile device users exclusively if you wish, so users will only see your ad on a device that's capable of downloading your app immediately.
If your company already offers mobile apps, don't forget to use videos to notify existing users of new products. When a new app launches, push an update to existing users that temporarily replaces your existing video ads with videos promoting your new app.
Explain Your App
Research conducted in 2015 suggests that the attention span of the average Internet user is just eight seconds. Suppose you have an app capable of doing something that's never been done before. Could you explain your app in just eight seconds using only text? Ride sharing company Uber Technologies is one of the few corporations that hasn't experienced a downturn in today's App Store climate. Uber found success with an app that uses your phone's location services to hail an inexpensive ride — any time you need it — in any of the app's more than 400 supported cities. Video played a key role in Uber's early success. (see below)
Show Your App on Multiple Screens
Do you have an app that displays a complex interface on tablets and scales down beautifully to fit on smaller devices? Show it off with a video illustrating your app's ability to transfer the user's data seamlessly from phone to tablet and back again. A video can show an app running on multiple screens simultaneously, allowing you to illustrate features that span across multiple devices more effectively than you could with still images.
Promote Your App With a Video Series
If you don't have a large budget to buy advertising time for your app's promotional video, create a video series designed to capture search engine traffic instead. For example, suppose you have a mobile productivity app with document editing, spreadsheet and calendar functions. You could create a series of videos answering the queries that someone who might be interested in your app's features would ask. For example:
How to Transfer Meeting Schedules From Windows to Your Phone
How to Add a Pivot Table to a Spreadsheet on Your Phone
How to Edit HTML Documents on Your Phone
Most likely, producing a series of videos will be more costly than producing just one video. However, uploading a video to a website such as YouTube costs nothing. If your videos highlight the features of your app while providing legitimate answers to users' queries, they'll capture free traffic from search engines and continue sending potential users to your app's download page indefinitely.
Reach Thought Leaders More Easily
New apps often have difficulty getting attention if they aren't featured on related websites and blogs. A feature on a website with a large readership could easily send thousands of potential users to your app's download page. Getting a busy writer's attention can be difficult, though. With the App Store adding more than 1,000 new apps each day, popular websites receive more review requests than they could possibly handle. Stand out from the crowd by sending reviewers a link to a short video instead of trying to explain your app with text.
Utilize the Power of Illustrations
Moving words can give a video a sense of forward movement and allow it to convey information more quickly than spoken narration alone. If you're having difficulty creating a video that explains your app's purpose in less than two minutes, contact a company that specializes in animated videos. Animation is one of the most effective ways to present a great deal of information in a short period of time.


Tell the World About Your App Today
AnimatedVideo.com specializes in creating videos promoting apps like yours to millions of potential users around the world. Our staff of over 150 in-house video creators can scale to meet the demands of projects of any size, from a single great video for a premium commercial slot or a series of informational videos for search engine optimization purposes.
During our years in the video production business, we believe we've developed a special talent for creating videos that inspire and inform audiences — and the results speak for themselves. Our clients enjoy conversion rates that would never be possible without the power of video. Contact us for a free quote today. We guarantee that you'll love our work.