Last Updated on April 13, 2022
Are you a business owner looking for a way to improve your visibility online? Do you have a video on your website? The following video marketing results show you should! Lets look at some important video marketing stats.
Importance of video marketing for your business
Statistics, in a way, run the world. During this presidential election, we see people looking at polls, questioning the validity of polls, and doing research to determine what is accurate. Despite the potential for inaccurate statistics, if you check your sources and think about what the stats mean, it can be very helpful for your business.
Video marketing benefits
When it comes to video marketing, it's important to "do the math." By having a list of valid statistics that show the trends of what customers want, you can corner the market on your products and brand in a way that will increase your ROI and make your efforts pay off.
In this post, we take a look at eleven important video marketing stats and give a brief on why is video marketing so effective. We have checked the sources below to make sure they are valid statistics and excellent sources for you to refer to in order to plan your video strategies. description of how they have an impact on your results. We have checked the sources below to make sure they are valid statistics and excellent sources for you to refer to in order to plan your video strategies.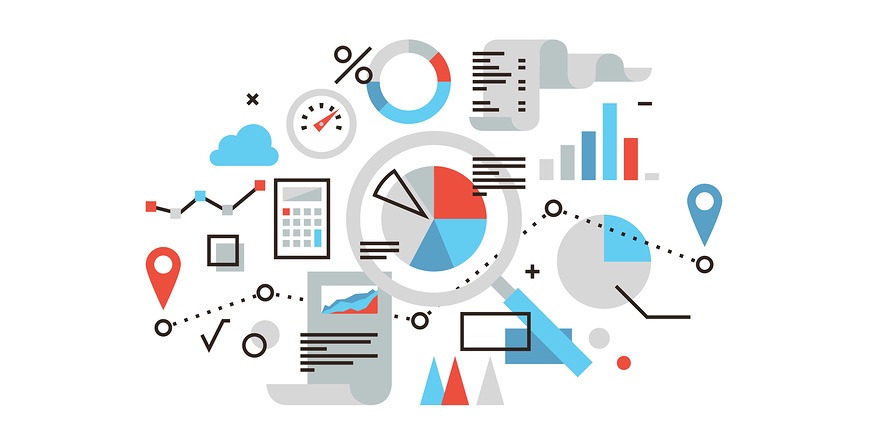 Executives view video weekly
Insivia.com a site that keeps up with statistics on video marketing to a "T," reported a number of interesting statistics. They stated that 75% of executives watch work-related videos on business websites at least once a week. Let's think about what this means.
Business executives are getting their information and media on the internet more than network television and other sources. They bookmark sites they want to keep up with, join their social media sites, and watch a video that will help them have a greater understanding of content. Since top executives get their information this way, having a video to put in front of them is essential, especially for your B2B clients. In fact, can you afford not to have a video?
Forbes Magazine also reported that executives are more likely to take action after seeing a video. This point alone is important to business owners who want to improve their status online and increase their level of engagement with customers.
It's also not just high-profile executives and Fortune 500 companies that are using online video to increase awareness and sales. Take a look at what these industry experts has to say about using whiteboard and explainer videos to increase sales.
Increased Shopper Responses
Video Brewery showed that 90% of customers who viewed a video reacted to the video and purchased the product after viewing it. They also reported that 80% of Internet users recall watching a video ad over a 30 day period. This may increase the likelihood of their purchase behavior simply because they remember the ad when they are shopping.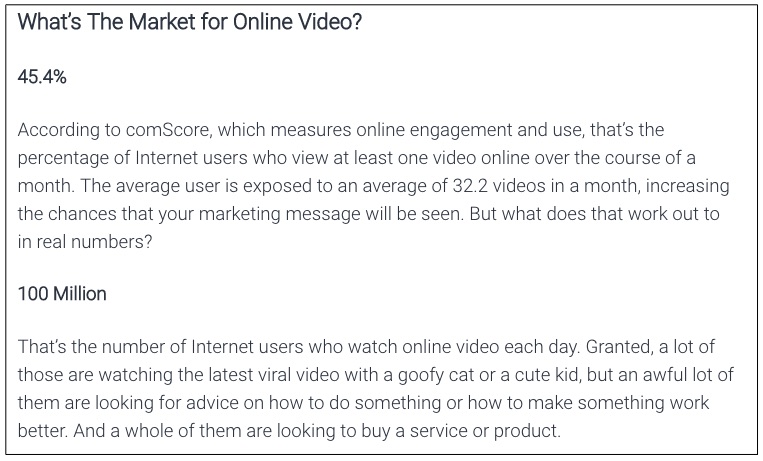 Video increases conversion rates
Hubspot has a statistic on their infographic that shows having a video on your website may increase your conversion rate by 80%. Also, 92% of users share a video ad with their social media friends.
These facts illustrate the importance of having a video ad on your page and with the products and services that you want to promote. If you don't have a video on your page, remember that your competitor probably does, and this means they will reap the rewards of their video message and you will be leaving money on the table.
Video accounts for 50% of all mobile traffic
Online video now accounts for 50 percent of all mobile traffic and up to 69 percent of traffic on certain networks. (Source: Bytemobile Mobile Analytics Report)
If you want to improve your traffic of your targeted audience, you need to have a video. That's what people are looking for. Also remember that many people will not go straight to your site directly. They may find your video first through YouTube. If you don't have a video, they will not find it!
Video facts indicate the importance of not only having a video on your site but also in making sure your video and website is mobile-friendly to capture your mobile users.
Video increases real estate sales
Do you work in real estate or know anyone who does? Statistics show that 73% of homeowners are more likely to list with a realtor if they offer to create a video for them. So if you deal in real estate or want to offer real estate services, the video opens a lot of doors for you in your ad campaigns.
Mobile users are more active shoppers
Invodo Reports showed that 52% of consumers say that watching product videos makes them more confident in online purchase decisions. Also, 92% of mobile video viewers share videos with others.
Mobile users will continue to increase in numbers as the technology for mobile devices improves and gains in popularity.
Explainer videos increase conversions
Wyzowl.com reported that 74% of users who watched an explainer video to learn more about a product or service subsequently bought it.
This means that having a video about your product is essential if you want to increase your level of engagement and conversions with your products.
Video boosts sales and revenue
Streamsend reports on their main site that marketers who use video see their sales rise by 40% overall.
Poor quality video produces a negative perception of a brand
Impactbnd.com reports 62% of consumers are more likely to have a negative perception of a brand that published a poor quality video. (Brightcove)
You can see a SlideShare video about the above statistic and much more on the Impactbnd site.
Using the word "video" in an email increases open rates
If you include the word "video" in an email's subject line, there is a 26% decrease in the unsubscribing rate.">Webpagefx.com If you include a video about your brand within your email, you will increase your level of engagement with potential customers and improve your conversion rate.
Video on a landing page increasing conversions by 80%
This video link shows a variety of interesting statistics on video marketing that you will want to see. Unbounce reports that having a video on a landing page increases conversions by 80%. YouTube reports that video engagement increases by 100% annually.
Watch the entire video get even more interesting statistics about video marketing and the importance of including video as an integral part of your marketing plan.

How to produce your video
Once you decide to include a video, you'll need to decide how to do it.
If you have experience with video production and editing, you could try to create a video yourself. But that takes time and money that you have to take out of your business day and your budget to find actors and other resources to produce the video.
A better solution is to hire an outside firm like AnimatedVideo.com to put your video together for you! At AnimatedVideo.com, we love producing whiteboard videos, animated videos, and corporate videos for our clients.
Check out our portfolio and see what you think of our previous work and contact us for a free quote. The animated video is our thing. We'll work with you to create the video you need to capture the attention of your target audience and increase your revenue.